Doki Sushi

Important Update ! - Doki Sushi has closed for October and November 2022 and will reopen in a new, nearby location in December.  We will provide an update when it becomes available.

Doki Sushi is located in Potrero, Guanacaste and is on the grounds of the beautifully landscaped boutique hotel, Libelula Lounge which is just 5 minutes from Playa Flamingo, 30 minutes from Tamarindo and 30-40 minutes from Playas del Coco.

The setting is amazing with a large sushi bar and small open air, covered seating area that is located in the garden pool area.  Tall trees and plants provide shade and protect the area from the hot and intense sunshine that is common in the Guanacaste area.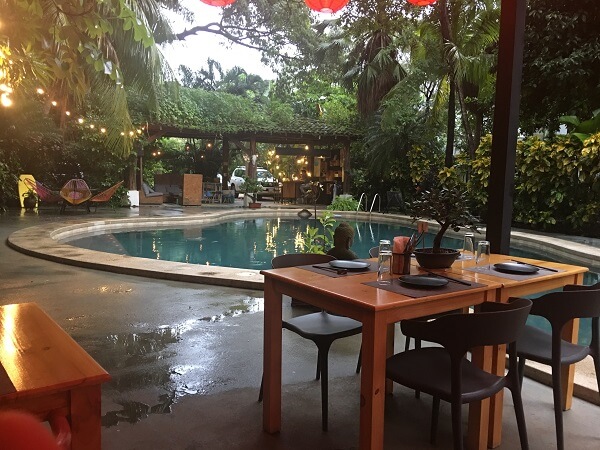 Doki Sushi has a nice selection of rolls.  Some of our favorites are the Arenal, Double Dragon Crunch, Rainbow and Salmon Avocado.
The edamame appetizer is really good and you can pick from three options, spicy, teriyaki and sea salt.

For this trip, we decided to go with the plates.  I love seared ahi tuna so I went with this.  Five very nice size pieces of perfectly prepared ahi tuna with a sesame seed crust, fluffy white rice, tender, but not over cooked, stir fry vegetables with a cilantro garlic soy sauce.  The tuna was sitting on a wonderful curry mayo sauce.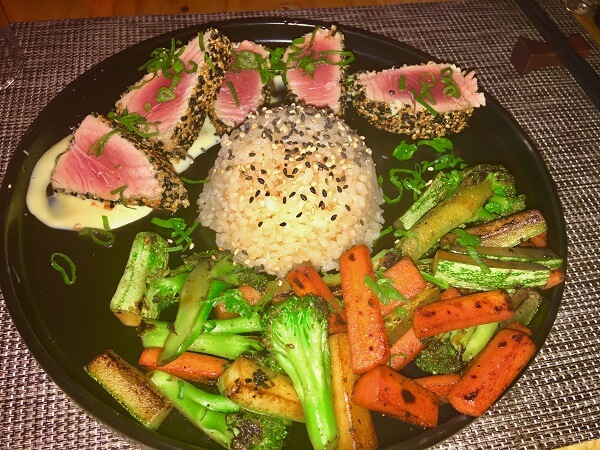 Mary selected the Mongolian Beef.  As we have learned from nearly four years in Costa Rica, tender and tasty beef can be hit and miss.  Sometimes you get tasty by not tender, other times vice versa and sometimes neither.  This dish was exceptionally tasty and very tender.  It was served with white rice and stir fry broccoli and sliced green onions.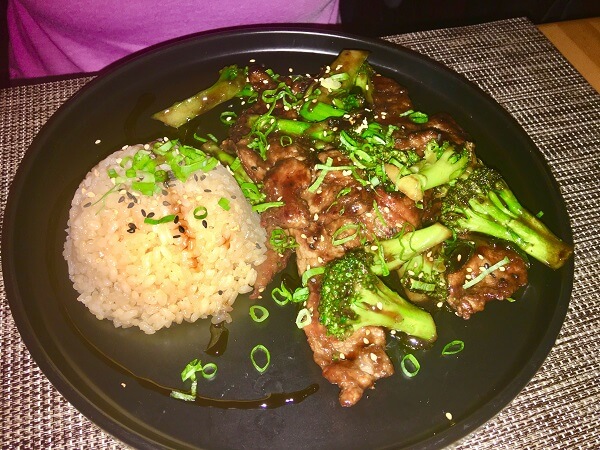 We had an absolutely wonderful dinner at a very reasonable price.  The plates were in the $12 to $15 USD range.  The rolls are in the $10-$13 range.  Drinks are expensive by Costa Rica standards.  A nice California Pinot Nior was $10 and the special drink of the day, a mixture of dragon fruit, gin, sparking saki and rosemary in a very large glass was $12.  All of the drinks are made with fresh ingredients.  All prices already include the 13% VAT and 10% gratuity so this makes it an even a better deal.

Doki also does take out and will accept orders via WhatApp +506 6205 3348.  They start serving at 5pm.

How to get to Doki Sushi

Doki Sushi is located in Surfside, a subdivision of Potrero and just off of route 911.  It can be little hard to find since it is behind the tall gates and walls of the Libelula Boutique Hotel.  It is located on Calle Mariposa which is a dirt road but does not require a four wheel drive vehicle.  When heading to the east, look for the Doki Sushi sign on the right.  Googlemaps and Waze will show that you have arrived when in reality you need to continue driving for another 40 to 50 feet.  Parking is on the street.  There is a gate on the right.  If it is not open, there is a doorbell that you need to push and someone will activate the automatic gate.