Lola's Costa Rica
If you are looking for that perfect beach front restaurant with great food and gorgeous views, then Lola's Costa Rica is it.
The first thing that you will notice about this wonderful place to eat, it that Lola is a pig.  The original Lola recently died but has been replaced, and upon occasion, quietly roams the grounds stopping by each table to say hello.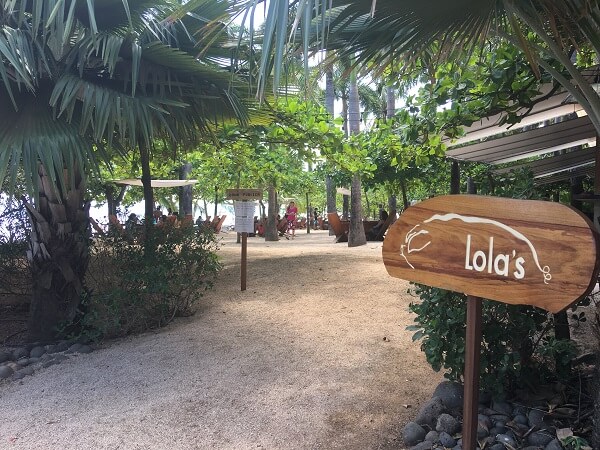 Lola's is located in Playa Avellana at the end of a long dirt road just south of Hacienda Panilla and the JW Marriott Guanacaste Resort and Spa.
It is an outdoor restaurant with some under cover seating for those seeking total shade or perhaps to get out of the rain.
The setting is amazing.  Most tables sit under the wide brimmed beach almond trees that are famous in Costa Rica.  The tree grows up and then out horizontally and has wide leaves that provide ample shade without being messy.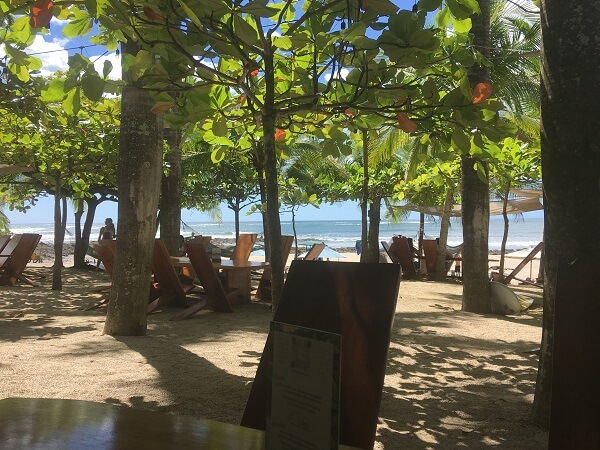 The chairs are unique also, but perhaps not for everybody.  They are made of two self hinged planks via a slot in the wood.  They lean back and are perfect for just sitting there watching the people and the ocean.  They are not the perfect selection for when it comes time to eat.
Lola's prides itself on using fresh organic produce, locally caught fish and free range meat.  They do not use single use plastic containers or straws and they recycle everything from composting to providing left over fryer grease for conversion to biodiesel.
The menu items are moderately priced.  From the drinks, appetizers to main entrees, everything that we have ordered has been amazing.
The service is always top notch and the majority of the employees speak English.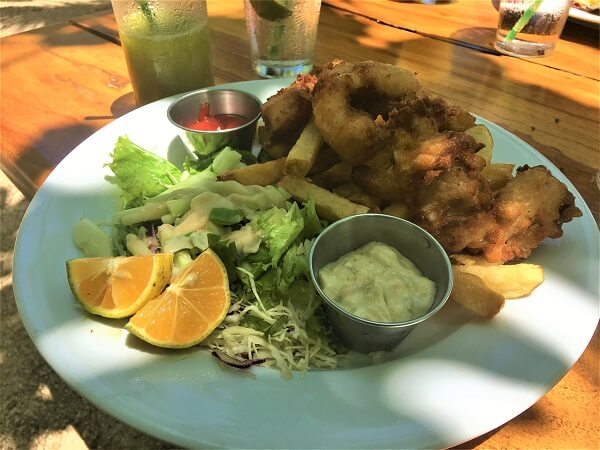 The beer battered fish and chips were the best that I have ever had.
The Asian Green Papaya Salad was super fresh and tasty with a nice balance of dressing.  The toasted bread was a nice addition.
The burger is a must have.  Cooked to perfection, tender and juicy.  The fries were amazing.
The grilled mahi-mahi fish tacos with rice and beans were prepared perfectly.  The fish was tender and sweet.  The salsa with cabbage slaw were a nice combination.
How to Get to Lola's Costa Rica
Lola's is approximately a 45 minute drive south from Playa Flamingo.  Two thirds of the trip is paved and the remaining unpaved.  Depending on rains, and when they last graded, the road can be ok or have lots of pot holes and washboards.  Either way it is a pretty easy drive and 4WD is not needed with the exception of the last 100m directly towards the beach.  This section of the road is predominately clay but usually there is one lane that is higher than the rest and as long as you stay on this portion, 2WD will be fine.
From the north take highway 152 through Via Real with a right turn towards Hacienda Panilla.  From the south take highway 160 north to 152 then turn left towards Hacienda Panilla.
There are always other ways to get there via dirt roads and winding through little town but these are the most straight forward with the best road conditions.
Parking choices are along side of the dirt road or in a small lot that is watched over by a parking attendant.  Parking is 2,000 colones (approx. $3 USD)
Lola's is open from 9am to 5pm.  Sundays are the busiest days.  Lola's is closed on Mondays.