Rio Lounge La Fortuna
The Rio Lounge La Fortuna is a great place to relax after a long hike down and back up the 500 stairs that take you to La Fortuna waterfall.  The food is exceptional and the refreshing drinks made from local ingredients even better.

Rio Lounge Entrance
The restaurant to located between the orchid trial and adjacent to the stair entry to the falls.  It sits high above the river valley and nestled in the shade of the rain forest.  It is completely open air letting the cooling breeze blow through.

The food, drinks and atmosphere was exceptional.  The staff was attentive and friendly.  It is a really nice place to just chill and relax especially after a day of hiking the river valley and the La Fortuna waterfall.
The restaurant is completely open air with a roof to protect you from the rain.  The tables are spaciously set apart and there is also a bar seating area.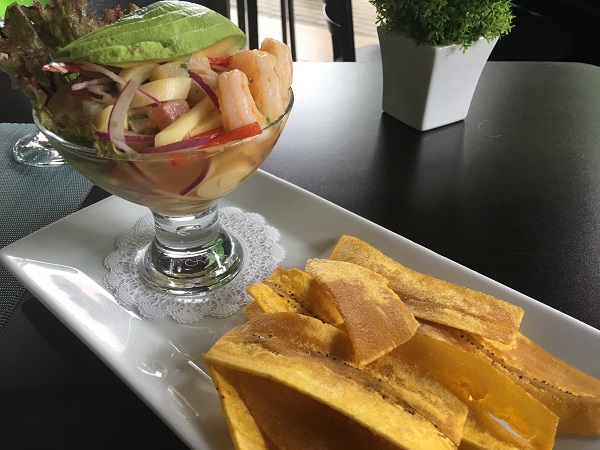 Fresh Ceviche
We started out with the fresh ceviche and dried plantain strips which was the perfect crispy combination.  Fresh fish, avocados, sweet onions, peppers, and tomatoes with a lime sauce made this dish special.  The portion was large enough for two and the white fish was very fresh.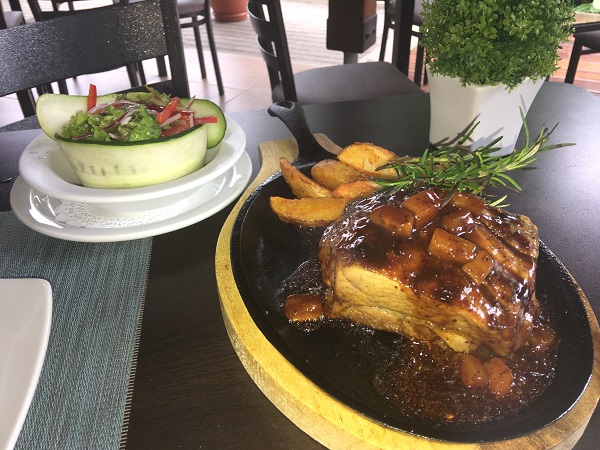 Sweet and Tender Pork Ribs
For our entree, we split the pork ribs and potato wedges.  The meal was large and enough for both of us.  The pork was juicy and very tender.  The potatoes were perfectly prepared, crispy and not dry.
Classic Costa Rica Salad
The salad was a classic Costa Rican style mix of lettuce, red onions, peppers and a cucumber slice with a mandarin lime dressing.  It was delicious and my first introduction to the mandarin lime which has since become one of my favorite dressings.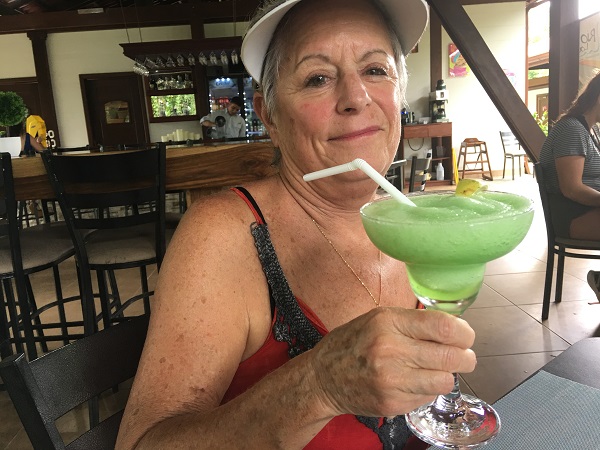 Refreshing Margarita
Plus we had a couple of these refreshing and tasty margaritas.  Delicious.
How to Get to the Rio Lounge La Fortuna Restaurant
The Rio La Fortuna restaurant is located within the La Fortuna Waterfall Ecological Reserve.  There is an entry fee of $18 USD for non Costa Rica residents and $5 for children to enter the reserve.
It is located about 4 miles west/southwest from downtown La Fortuna on route 301.  The road is paved and in good condition.  Four wheel drive is not needed.  There is a large parking lot next to the Ecological Reserve check in area. 
See what Tripadvisor has to say about the Rio Lounge La Fortuna.

I highly recommend stopping here after exploring the Ecological Reserve.