Gracia Mar Vista

Gracia Mar Vista is one of those hidden restaurants that you have to visit at least once.  Because when you do, you will keep coming back again and again for the food, atmosphere, view and friendly staff.

Dining Area View
Located within the gated community of Mar Vista on the gold coast of Playa Flamingo, but open to the public, this restaurant has some of the most amazing food created by executive chef Frankie Becker.  Add in the huge infinity pool, swim up bar and view of the Pacific Ocean makes Gracia Mar Vista a great place for a sunset swim and lunch, dinner and drinks.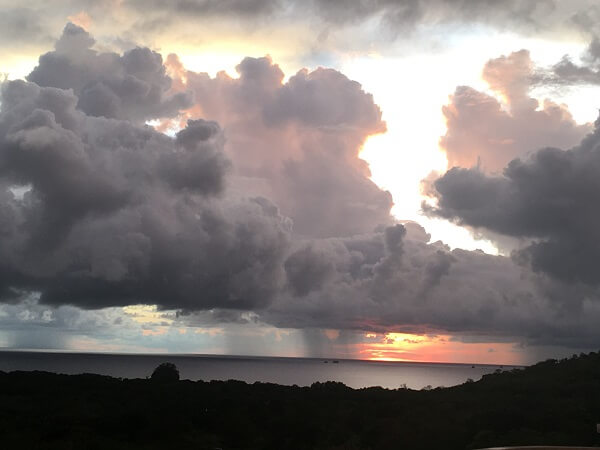 Classic Sunset in Costa Rica
Entrees include a nice selection of fresh fish, salads and meat.  There is also a wonderful selection of very unique tapas such as the wicked cajun BBQ shrimp, bacon wrapped dates, crispy cauliflower, coconut chicken bites and more.
Some of my favorite entrees are the Mahi Wulfe, lightly breaded and grilled fresh mahi-mahi with grilled artichokes, sun dried tomatoes, basil lemon butter, garlic mashed potatoes and grilled vegetables.

Mahi Wulfe
Another one of my favorites is the Parmesan Crusted Seabass with citrus beurre blanc, seared spinach and basil tomato rice.  Absolutely delicious.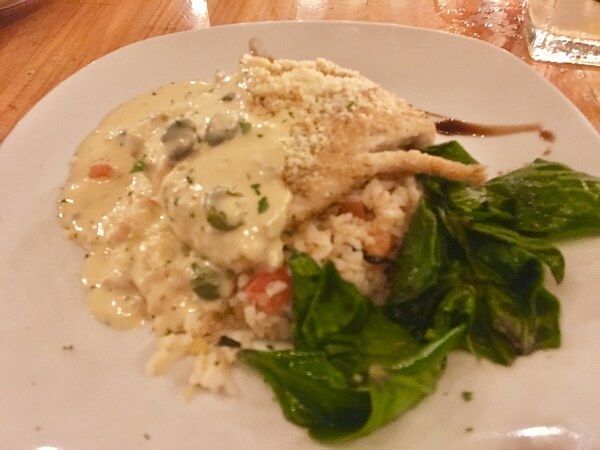 Parmesan Crusted Seabass
Shown below is one of the best salads, the Summer Salad, containing organic mixed greens, pecans, dried cranberries, red onions with a light and tasty citrus berry dijon vinaigrette dressing topped with a twice baked goat cheese souffle.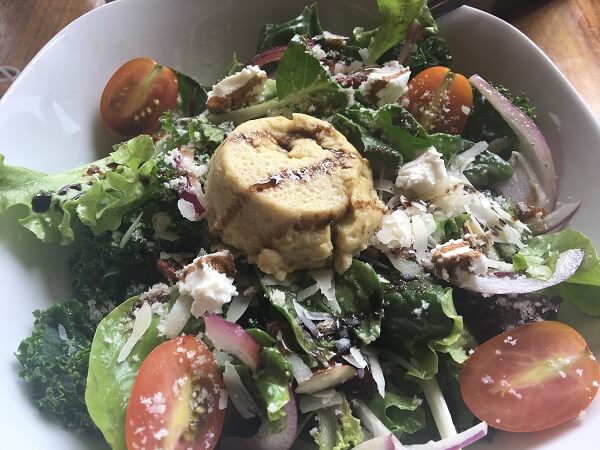 Summer Salad
In addition, don't pass up the Gracia Burger.  100% Angus beef with cheddar cheese, house sauce, pickled onions and dijon tomato.  This is one of the tasty and juicyburgers that you will have anywhere.

And for dessert, the homemade Key Lime Pie is amazing.  Other choices include carrot cake, brownie delight, plantanos foster and chocolate fondue for 2.

Portion sizes are larger than average and ingredients are all organic and fresh from local suppliers.

Gracia Mar Vista is open Tuesday through Sunday 11am to 8pm, closed on Mondays.  Dinner starts at 4pm.  Reservations are highly recommended, especially for dinner on Friday, Saturday and Sundays.

Gracia Mar Vista Website and Menus

How to Get to Gracia Mar Vista

Gracia is located within the gated community of Mar Vista between Brasilito and Playa Flamingo in Guanacaste Costa Rica.  Check in at security and just tell them that you are going to Gracia.
Travel times are about 30 minutes from Tamarindo, 40 minutes to an hour from Playas del Coco depending on the route that you take, and an hour plus from Liberia.