Bijagua Rana Wildlife Sanctuary

Bijagua Ranas is the perfect place to experience Costa Rica wildlife in a natural setting without having to hike deep into the jungle.  During our visit we were able to see 4 sloths, a couple of toucans, frogs, a very poisonous snake, a huge group of leaf cutter ants, a very strange beehive with tiny little bees buried into a tree and also enjoyed the rain forest canopy and beautiful foliage.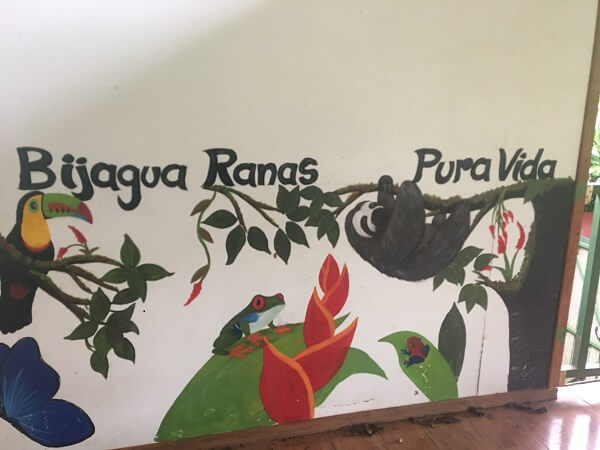 It is a private wildlife sanctuary located on about 5 acres of land with hiking trails, bridges, a viewing platform and a couple of streams that meander through the property.

The hiking trails are relatively flat and easy to walk although there are some sections that have narrow metal steps.  Most of the trails have a little bit of gravel added so that they are not slippery.

The cost to enter is $20 USD and this includes a guide.  I highly recommend having a guide.  They will spot things that you can't, plus they also know the property and are familiar with the trails which can become a little confusing once you work your way down to the lower part of the property and around the river.
Most of the guides speak English however our guide spoke very little, but when combined with our little bit of Spanish and their little bit of English, it all surprisingly worked out very well.

We started our tour and within just a few minutes we ran across a tiny poisonous snake curled up on top of some dead plant growth.  We also saw two or three frogs hanging to the underside of some large leafs.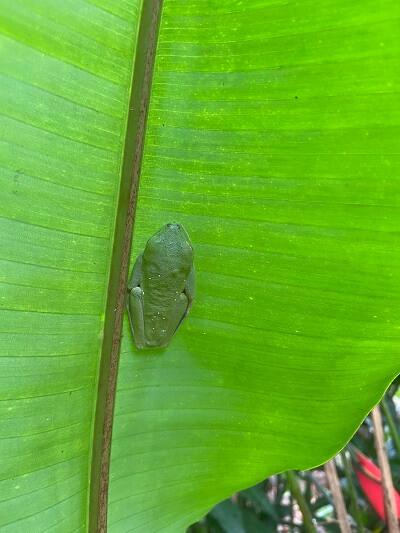 The entire walk is under a shade canopy of trees and plants.   It was raining the day we visited and due to the thick canopy, very little water landed on us.
Some of the plants and flowers are amazing such as the huge Ceiba trees.

There were also several large, brightly colored flowers.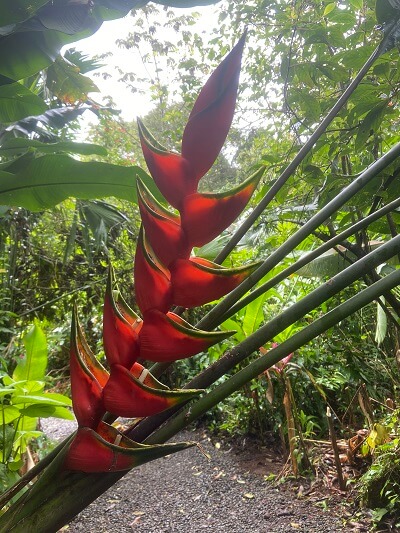 Once we walked down into the lower part of the property, we ran into several sloths which were located high above in the trees.  Sloths are generally hard to find and often times don't move at all.  We were lucky and found a few that were very active.  Due to their color, they blend in with the trees and bark and are very difficult to photograph with a phone camera.

On the way back we saw 3 brightly colored Toucans but were unable to photograph them.
Our hike lasted about 90 minutes, which was just about right. 
Best Time to Visit

Bijagua Ranas is located in the northern central valley of Costa Rica and sits in the lowlands between two active volcanoes.  While it rains throughout the year here, the heavier rains start in May and continue through mid-November.  The best time to visit and not get soaked is between December through April.  If you choose to visit between May and July, I would recommend going early in the morning as most storms occur in the afternoon.  Once August arrives, this area can have all day rains especially in September and October.  Learn more about Costa Rica Weather.

How to get to Bijagua Ranas
Bijagua Ranas is located about 200-300 meters south off of route 6 in the small town of Bijagua.  From highway 1, you take route 6 just north of Canas.  The 20 mile stretch of route 6 is relatively flat and straight except for a few curves at the end as your approach Bijagua.  The road is in a valley between two volcanoes and only increases about 1000 feet in elevation during the drive.
Please visit our Driving in Costa Rica and Costa Rica Roads page if you are not familiar with driving in this country.

There are two entrances to the wildlife preserve, one that Googlemaps will take you to, which is the eastern entrance and is a small dirt road about 100m long that dead ends at the entrance.  You will clearly see the Bijagua Ranas entrance sign followed by a bridge.  Keep walking straight, all the way back until you get to a large seating area underneath a porch cover.  This is not the preferred entrance.

The better entrance is by taking the dirt road to the south right next to the Banco National.  This will take you directly to Bijagua Ranas and real parking area.
Travel times are about 2 1/2 hours from Tamarindo and Playa Flamingo, 1 1/2 hours from Playas del Coco, a little more than 1 hour from Liberia, 1 1/2 hours from La Fortuna.

You do not need a 4WD vehicle to get to Bijagua Ranas as highway 1 and route 6 are all paved.  The only dirt road that you will encounter is to the entrance of the sanctuary.
If you are in the Guanacaste or the central valley areas of Costa Rica, a visit to Bijagua Ranas is an easy day trip with plenty of time to have a nice lunch on the way.