Moving to Costa Rica - Things to Research
After exploring the country during several visits, we made the decision to seriously consider retiring in Costa Rica, but can we really make it happen ?  Is it really affordable ?  Can we meet all of the requirements ?  How will the rest of our family and friends react?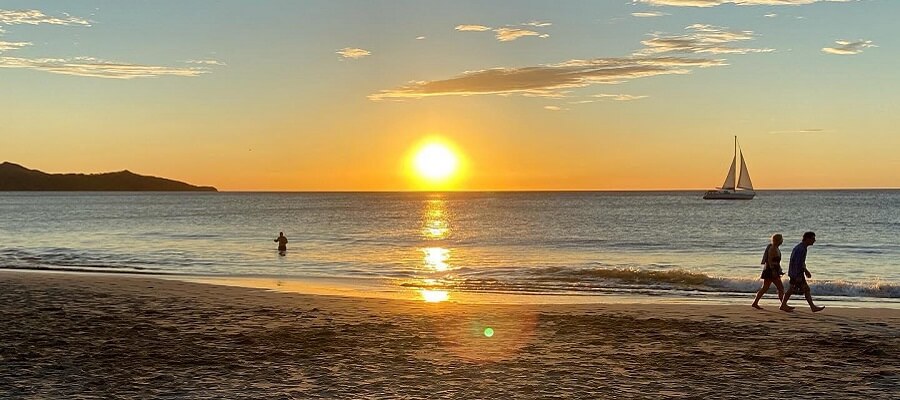 The easy answer would be to remain in San Diego.  However, our initial findings show that moving to Costa Rica will let us retire 5 years earlier than if we stayed in California.  Five years when you are in your 60s and in good health is a long time
We returned home ready to research everything from buying, building or renting a house, access to good healthcare, weather, different micro-climates, cost of food, cost of insurance, outdoor activities, residency, the culture and lifestyle and much more.  Below are the results.
Moving Checklist
If you are considering moving to Costa Rica, it is very important that you consider each of the following topics to ensure your lifestyle change is a good one.
Can you live apart from your family ?
Can you legally become a resident or will you just be a perpetual tourist and do border runs very 90 days to keep your immigration status and drivers license valid ?
Do you have a criminal background that may prevent you from becoming a legal resident ?
Can you afford to live here ?
Are you healthy ?  Do you have pre-existing conditions ?  Do you need to live close to a medical facility ?
Do you have a drinking problem ?
Are you bringing pets ?
What are you bringing with you ?
Do you need to own a car ?
How will you get important documents and mail delivered ?
What type of weather do you like ?
Will you buy or rent ?  If you buy will you build a home or buy an existing one ?
Where will you live ?
You Are Thinking About Moving Where ?
Yep, be prepared.  Family and friends will most likely be in shock and for us the responses were:
What about us ?
Cool, what airport do I fly into ?
I have never been to that island.
What happens if something happens to you ?
And my favorite, are you going to be on House Hunters International ?
The response was all over the place.  Some were happy, some upset, some didn't know what to think.  Several of our close friends had already left California and more were planning to get out within the next few years.  Many of these were San Diego natives so that shows you how disappointed and frustrated everybody was with what California has become.  Growing up in San Diego, and through a good portion of our lives, it was the best place in the world to live.  Great weather, no traffic, lots of nice beaches, close to the mountains and desert, and great people.  Except for the weather and being close to the mountains and desert, it all changed for the worse.
Many who embark, or try to embark, on an adventure like this will be pressured to not leave.  Others will get here and be pressured to go back, and many will do so. The majority of people who move here, leave within a few years, and family is one of the major contributing factors.
For us, the trip back is pretty easy, only 5 hours or so by air from Liberia to LAX and then the drive to San Diego which is not as easy.  Four hours to go 125 miles to northern San Diego county during a recent visit, and this was in the carpool lane!  This was a great reminder on why we left.
We plan to travel back to San Diego several times a year to see family and to visit friends that have relocated to other states and countries.
We chose quality of time with family and friends versus quantity.  For us spending a dedicated week or two with someone is much more meaningful than a bunch of short, often times, hurried visits.
If you are serious about this, one of the first things that you need to do, is to address this issue up front and make a decision before proceeding with any research.   The amount of work in getting ready and physically moving to a foreign country is a daunting and huge undertaking, not to mention, exhausting.  Better to save the time and effort by figuring this portion out first.
Residency
After getting past the family shock that you are considering moving, the next step is to determine what the legal requirements are for moving and staying in the country long term.
There are not only strict requirements for visitors but also for obtaining residency and becoming a citizen, if you choose to do so.  If you cannot meet these requirements, you might as well stop now and look somewhere else.  If you do it the wrong way or ignore the law, you could be banned from Costa Rica for a period of time or possibly forever.  Learn more about obtaining Costa Rica Residency.
Cost of Living
Ok, so you are good with leaving your family and you meet the immigration requirements.  Now is when you figure out if you can afford this country.  The answers may surprise you. 
Costa Rica is the most expensive Central American country to live in.  Import fees, taxes and location within Costa Rica are all major factors.  However, it is still relatively cheap when compared to many cities in the United States, Canada and Europe.  However, depending on where you are coming from, it may be more expensive, so do your homework.  Find out why Costa Rica may break your budget.  Learn more about the Cost of Living in Costa Rica.
Healthcare
The Costa Rica healthcare system is touted as one of the best in the world.  A nationalized health care system provides access for all Costa Ricans and temporary/permanent residents.  There are also private facilities and insurance available.  However, not all healthcare will be right next to where you live.  Dial 911 and you may be waiting a long time.  Learn more about the Costa Rica Healthcare System.

Bringing Your Pets
For most people, pets are an important part of your family and they go with you everywhere.  Moving full time to an international destination and taking your pets is a big undertaking, and for us, was one of the most stressful parts of the entire process.
There is a very short timeline to get all certifications and endorsements completed before they expire.  Certain breeds cannot travel via air and restrictions varying from one airline to another.  Can your pet make the journey with you ?  What do you do if they can't come along ?  Learn more about Bringing Your Pets to Costa Rica.
Shipping Your Belongings
You have made the big decision to move to Costa Rica and want to bring everything that you own such as cars, boats, furniture, tools, kitchen gadgets, clothes, basically all that you have accumulated throughout the years.  After all, you have invested lots of time and money furnishing your house just the way you like it and can't part with anything.  If you live far away from a major port, such as in Colorado, the cost just to get the shipment to the nearest port may surprise you.  How long will it take and will my prized possessions really be safe ?  Learn more about Shipping Your Belongings.

Getting Mail
Having mail delivered to a foreign country is a big deal.  Things like credit cards, ATM cards and important documents need to be delivered securely and reliably.  After moving, your home address probably is no longer valid so you will need to figure out how to coordinate the transfer to a foreign country.
Costa Rica has a postal service, but is it reliable and secure?  Can I really get these items sent from another country and have them really show up in Costa Rica ?  We figured all of this out and found an easy and reliable way to get only the mail that you want.  Learn more about Getting Mail in Costa Rica.
Owning a Car
Having a car in Costa Rica is really expensive.  Some people opt for using the public transportation system instead.  It is both reliable and inexpensive but to use it, you will need to live close to town and not in the middle of the rainforest.
Scooters, motor cycles and quads are less expensive options but have limitations, especially during bad weather.
If you choose to own a car, you have the option of importing yours or buying one new or used.  But beware, make the wrong decision and it could be a very expensive learning exercise.   Learn more about Owning a Car in Costa Rica.
Getting a Drivers License
The process on how to get a Costa Rica drivers license is far from obvious to the person that has moved here from another country and started a new life in Costa Rica.  There are lots of strict requirements and preparation to complete before you can even try.  Recently, my wife received hers and we have documented the twisted trail to her success.  Find out how she did it.

Where to Live
If you live the sunshine, heat and are a beach person, you most likely will want to live on the Pacific northwest province of Guanacaste and the towns of Coco, Flamingo, Tamardino or Nosara.
The hills of the Central Valley and towns like San Ramon and La Fortuna experience cooler weather and more rain.  The cloud forest of Monteverde will not require heat or air conditioning.
The suburbs of San Jose are cooler due to the 3,845 foot altitude but are more congested and traffic can be a problem.
The Caribbean port of Limon will be hot and humid but experience less rain in October than nearly all other areas in Costa Rica.
For us, it was obvious.  We love the beach, warm temperatures and plenty of sunshine so we selected Flamingo.
Rent, Buy or Build ?
Nearly everybody recommends that you rent and move around every six months to find the location and micro-climate that is best for you.  Rents can be as reasonable or as high as you want depending on location.  Beach areas will be expensive while small towns in more remote location will be much less.  The best way is to find something to fit your budget is to use a real estate person that knows the area but also acts as a property manager.
There is no such thing as a licensed real estate agent in Costa Rica which can open things up to people who don't have your best interest in mind.  There are plenty of highly reputable agents that are certified in many areas of expertise.  However, like anywhere in the world, there are probably just as many that are equally bad.  Again, try to get a recommendation from multiple people that used the same person.
If you buy from a private party, do your due diligence to ensure that you don't get a bad deal.  Hire a lawyer from a recommended source and do your homework.  IMPORTANT ! If you are buying land, make sure that it has water rights.  If not, you won't be able to build on it.
We decided to buy and build without living here prior.  We knew the area that was best for us.  We love the beach, sun and warm to hot weather.  I love to fish.  We picked Guanacaste and the gated Mar Vista development in Flamingo.  We did our research on the developer, the builder and the area.  We spoke to several people who lived there and also in nearby communities such as Coco.  Follow our home build here.
Electricity is also very expensive in Costa Rica and comparable to that of San Diego California.  There are plenty of locations in the hills and valleys that will not require heat or air conditioning.  The Guanacaste region is not one of them.  Solar is somewhat new to Costa Rica and net-metering has just started.  Once the industry establishes itself, solar may be a good option to offset some or all of the costs.
No matter what you decide to do, factors to consider are proximity to health care, nearby towns, schools if you have young children, weather, other expats in the area and things that you like to do.  For example, if you like to surf or fish, you probably won't want to live in the central valley.  If you like to hike, you many want to live close to one of the many national parks.  If you want to immerse yourself in the local culture and language, pick a location that does not have a high expat population.