Container Shipping to Costa Rica
Shipping to Costa Rica is a complicated topic with lots of hidden issues and lurking problems.  This article is for people who are considering moving to Costa Rica and shipping their belongings in a container via ship.
For those looking for information on how to have standard mail and packages delivered in Costa Rica, please see our article on Getting Mail & Packages.

If you are seriously considering shipping to Costa Rica in a container and thinking about taking everything that you have accumulated over the years, you will want to read all of the information below.
Not only is this a tremendous amount of work, it will be very time consuming and extremely expensive.  If this is an absolute requirement for moving, you may want to reconsider what you want to take with you or perhaps not even moving.  Here is why......
The Cost of Shipping to Costa Rica

There are several factors that will determine how much your container shipment will cost.
Proximity to a major port - If you live in the center of the United States, thousands of miles from a major port such as San Francisco, Long Beach, New York or Miami, to name a few, the cost to transport your shipping container(s) via ground to the port will likely exceed the overseas cost of transporting it from the port to Costa Rica.  Even living in San Diego, our cost to get the container to Long Beach was almost just as much as from Long Beach to Costa Rica.
Dedicated or shared containers - You can get a dedicated container or the contents can be separated, palletized and shipped in container that is shared with other people.  While using this method may work fine and be more cost efficient, the odds of the items becoming damaged, lost or delivered to the wrong person is generally higher.  In addition, you won't be able to oversee the loading.
Live load or hired load - If you decide on a dedicated container, you have the option of doing a live load where the container is brought to you, and you load and secure the contents.  You will have a fixed amount of time to complete the load and will have to pay by the hour if you exceed this limit.  Beware!.....if you choose this option, the container will be on a truck and sitting 4 feet above the ground.  The contents must be lifted as there are no ramps or lifts to assist you.   Alternately, you can hire a company to pick up, pack and load the container without your involvement.  The downside is that you won't see how things are packed and loaded, and in my opinion, this is just one more step where things could go wrong.IMPORTANT! - Don't load a container so that it gets to port at the end of a week.  If it arrives on a Thursday or Friday, it will sit over the weekend and incur additional holding charges.  Avoid it arriving close to a holiday of any type.  Find out from your transport company, when it will arrive at the port and schedule your load accordingly. 
Number of containers - Standard container sizes are 20 and 40 feet long by 10 feet wide.  If you are shipping a vehicle, it will likely require a 40 foot container, especially if it is going with other items.  As the number of containers increase, so does the cost.  There is no discount for shipping multiple containers.  Read our Owning a Car in Costa Rica page before deciding to take it with you.
Sealed Container - Ask for a sealed container that is moisture resistant.  These types of containers have rubber around the doors.  The container will be at sea for several weeks in a very high humidity and this type of container will minimize any moisture damage.

Import fees and Taxes - Everything that arrives will be taxed at 13% of the declared value, only if the Customs Broker and Costa Rican Officials agree with your assessed value.  In addition, import taxes will be applied to each item and the amount varies with each type of item.  For example, books have an import fee of about $1 USD where a vehicle can be anywhere between 50% and 90% of the Costa Rica assessed value.  In general, with the exception of furniture, the import fees for household goods are inexpensive and electronics are very expensive.  A good shipping company will provide a fixed price quotation based on the information that you supply.  Other companies will provide an estimate, but you will not know the final import fee and tax until it arrives in Costa Rica.
Delivery - Most likely you will not be able to pick up your container contents and will have to coordinate delivery to your final destination.  Similar to shipping from your home country, proximity to the port will be the main driver for delivery charges.  Also, remember manana....just because someone says it will be there tomorrow doesn't mean it will really be tomorrow.  Have patience.  This is why you moved here, for a slower and relaxed lifestyle.
Vehicles - If you ship a vehicle, it will not be released to you at the same time as your other items.  Vehicles need to be valued, registered and inspected prior to being able to legally drive it in Costa Rica.  If it fails inspection then all items must be repaired in order to get it released for use.  Some examples of the items inspected are 1) all suspension parts, 2) headlights, 3) turn signals, 4) windshield wipers and reservoir, 5) horn, 6) tire tread, 7) windshields for cracks or obstructions, 8) engine oil and brake fluid level, 9) air conditioning, 10) seat belts and 11) exhaust emissions.  Don't ship an old car or truck with lots of issues.  Fix them before you leave.

What to Bring
Do not bring wood furniture.  Custom wood furniture in Costa Rica is inexpensive, beautiful, durable and will withstand the extreme climate.  Most of the furniture is made out of the local Mango or Guanacaste trees.  Bringing anything that is laminated over particle board is like bringing a sponge to a pool party, it will soak and hold the moisture, eventually breaking the wood down.  Termites will consume any type of soft wood such as pine or cedar.
Do not bring a car.  You will need either a larger container or additional containers to accommodate the larger shipment, plus it must be certified as safe for travel on the ship.  Depending on the age of the vehicle, import fees can range from 50% to 90% of the Costa Rica assessed value, depending on the age of the vehicle.  There is no such thing as a Kelly Blue Book here.  See our Owning a Car page for more information.
Do not bring beds.  Beautiful wood headboards and frames can be custom made and US style pillow top mattresses are widely available.  Most don't use a box spring set and place just the mattress on top of the raised wood frame.
I would not recommend bring any upholstered indoor furniture.  We have several friends who brought couches and chairs and in all cases they ended up with a bunch of black soot all over the fabric that was very difficult to clean.  The only way to fully protect it would be wrap it in plastic but then you have to worry about mold and mildew forming during the month long trip at sea.
If you have an overabundance of tools, I would recommend scaling down to the bare minimum of what you think you will need and sell the remaining before you move.  Remember, everything down here uses the metric system.  Tools also carry a heavy import fee and may, or may not be worth bringing.  However, one thing I should have brought was a good portable air compressor.  Also, tools quickly rust in the humid climate, even in the drier areas.

Electronics such as TVs and computers are expensive to purchase in Costa Rica.  On the flip side, the import tax is high if you bring them.  At Walmart in Liberia, there was a new 75" Samsung flat panel on sale for about $1700.  If you bring a used TV and declare a value of $300, by the time you pay the VAT and import fees, it could add another $200-$300 USD.  So, depending on the age, maybe it is worth bringing, maybe not.  Costa Rica also has several Pricesmart stores (think Costco).  This is a great place to purchase computers, phones, TVs and other electronics.  Most are located in and around San Jose but they recently added one in Liberia across from the international airport.
If you have lots of kitchen gadgets, good quality knives, food saver, air fryer, insta-pot, blender, food processor, etc., bring them  because you won't find many of them in Costa Rica.  Name brand items such as Cuisinart and Kitchenaid can be found but are much more expensive.
Bring bed linens, comforters, towels, etc.  We haven't found any here that are of good quality, and even the better ones, are really expensive.
Bring pictures and books but remember to seal and add desiccant packs to remove any moisture.
Outside patio furniture is very expensive in Costa Rica.  A decent quality aluminum lounge chair for the pool or patio can run $400 USD or more, for one !  If you have something that is powder coated aluminum, won't rust and doesn't contain glass, it would be worth bringing.  Don't bring any wood outdoor furniture unless it is teak due to an over abundance of termites.
If you have sporting equipment such as surfboards, bikes, kayaks, golf clubs, fishing equipment, exercise equipment, bring them.  The quality of the ones available in Costa Rica are not good.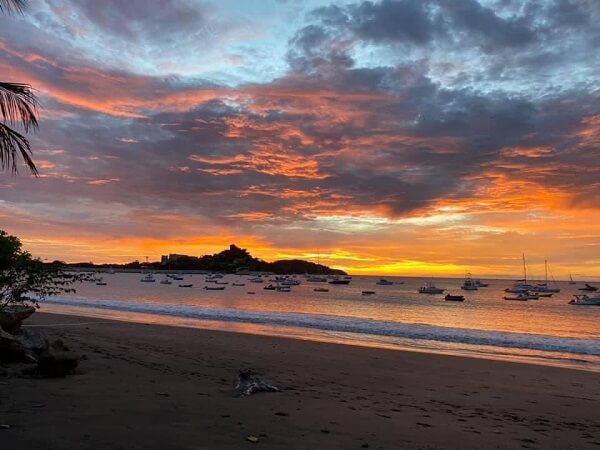 Preparation
When shipping to Costa Rica or any other foreign country, the contents will have to be well packed, and some items such as pictures, photos and electronics should be sealed and have moisture removing packets included.  Large items will have to be tied down to prevent movement and subsequent damage.  Every box must be labeled in Spanish and English and include quantity and name of each item.  You will need to include a master manifest with a declared value for each item.
Buy the insurance to cover loss and/or damage.  Take pictures of expensive and/or important items.  Bring any purchase receipts that you may have have in case you have to prove the value.
Once loaded, take pictures of the contents.  Also take a picture of the final seal that is placed on the door lock.  Make sure that you get an up close photo of the identification number on the seal.  If you need to make a claim against the shipper, the first thing they are going to ask is for a picture of the seal and ID number that they installed.
Our Shipment
We scaled down our belongings to fit into a single 20 x 10 foot container.  We took two large Samsung LED televisions, a Hobie fishing kayak on a converted jet ski trailer, fishing equipment, linens, vacuum cleaner, bedding and numerous household and kitchen items plus pictures.  We did not bring any furniture or tools.
The cost to get it from San Diego to Long Beach was about $1300, with me performing the live load myself within the two hour allocation.  Then surprise, in Long Beach, an unexpected Customs and Border Enforcement inspection that cost an extra $1800. The inspection also delayed the shipment and pushed it into the weekend.  Guess what, I was now on the hook for two days of storage at $250 per day.  Now I was $3600 into the process and it hadn't even left the port.
The cost to transport from Long Beach to Costa Rica was only $1600.  Upon arrival in Costa Rica, the total amount for import tax and delivery was $5200.  Total cost ended up being over $10,000, twice the cost of what we originally thought it would be.
Since I performed the live load and secured all of the contents, I thought they would all be safe.  Unfortunately when a third party transfer company in Long Beach coordinated the Customs and Border inspection, the seal to the container was removed, contents removed from their packing boxes, inspected, and in many cases not put back in the original packing boxes.  Everything was then put in another 20 x 10 foot shipping container with a new seal therefore voiding the photo of the original seal.  Nothing was tied down, even the kayak on the jet ski trailer, and many of the items moved during the transport and ended up broken.  Some items, such as fishing lures, were stolen from the tackle boxes.  My wife's sewing basket was littered about my kayak.  We still have not found the actual basket.  The people in Long Beach were horrible and didn't care about taking care of any of my items.
Company Referral for Shipping to Costa Rica

Two of my friends recently moved to Costa Rica, one from Canada and the other from Colorado and they both used shipcostarica.com.  They received an all inclusive, single fixed price quotation for everything.

Their website is nothing fancy, is one page and only supplies a contact email address.  Barry will be your point of contact.  Both of my friends said that everything arrived in good shape, at the expected cost and without any issues.  They both highly recommend this company.
Another person that I hear good reviews from is Charlie Zeller.  He owns a company called Ship to Costa Rica (similar in name to the other company mentioned above).  He can also be found on Facebook and mentioned in many of the Costa Rica Facebook groups.

Summary
We went with a shipping company referral from someone that we knew and who has lived in Costa Rica for 15 years and shipped several containers from the US to Costa Rica.  In interviewing the company, my first impression was not to use them but the more I talked with the company and the referring person, I decided to go forward.
Later on I discovered that many of my friends and neighbors also had bad experiences with the same company that I used.  They cited damage, missing items plus increased costs.
IMPORTANT! Everybody's situation is different.  Some choose to scale down, simplify their lives and hardly bring anything.  Others can't part with their possessions that they have gathered over the years.  However, should you choose to go forward with shipping to Costa Rica, my recommendation is to only go with a company that supplies a total cost for door to door pickup/delivery that is inclusive of all transportation (land and sea), storage fees (staging before and after transport), Customs/Broker fees, taxes and insurance.
What was your experience in shipping to Costa Rica ?
Did you ship some or all of your things to Costa Rica or did you decide to just sell everything and start over ? Had a good experience? If so, tell us who you used. Likewise for the bad ones.
What Other Visitors Have Said
Click below to see contributions from other visitors to this page...