Soda Marcela
Soda Marcela is one of my favorite restaurants in Costa Rica.  They offer the standard classic soda cuisine of rice, beans, pork, chicken and salad dressed with a fresh mandarina and also locally sourced and very fresh seafood.  The menu is extensive and there is something for everybody.
Prices range from around $5 USD to a little over $20 USD for the larger seafood plates.
Soda Marcela also offers a limited selection of local beer and wine.
The owners and staff are attentive, efficient and friendly.  They make you feel right at home.
This small Costa Rican soda has 10-12 tables including a few outside.  Get there early because the crowd fills up the restaurant by 7-8pm.
We have now eaten there about 6 times and every trip has been fantastic.  Below are some of our entrees.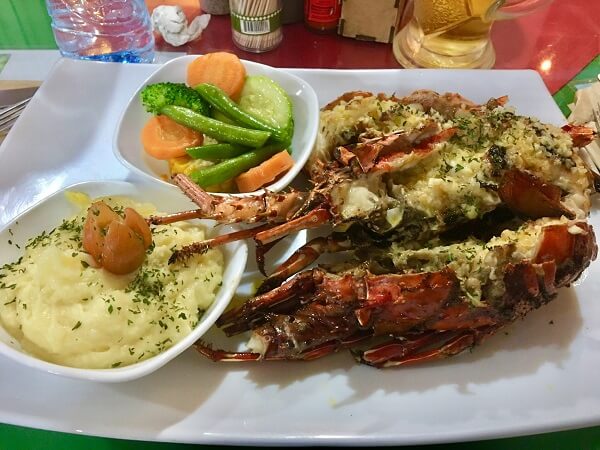 Lobster with Garlic and Butter
The lobster was amazing.  Three halves of tender, meaty and sweet grilled lobster smothered in a garlic butter sauce.  Pureed butter potatoes and some steamed vegetables topped off the dish perfectly.
Seafood Platter
The seafood platter was huge.  Really more of a dish for two unless you like to take some home.  The dish includes half of a lobster in a garlic butter sauce, clams, mussels, white fish, calamari, shrimp and rice all sitting on a nice bed of greens.  Absolutely delicious.
Jumbo Shrimp in a Garlic and Butter Sauce
The Jumbo garlic shrimp in a butter sauce was wonderful.  The shrimp was tender and cooked to perfection.  The steamed vegetables and pureed butter potatoes were a perfect match.
For desert, try the rice pudding or tres leche cake, both of which are amazing.
How to Get to Soda Marcela
Soda and Seafood Restaurant Marcela is located just off of route 155 in the town of Villa Real and across the street from town square park.  The best parking is on the side of the street next to the park.
If you are traveling from Tamarindo, it takes about 10-15 minutes by car, an hour or perhaps a little bit more from Coco, 20 minutes from Flamingo, and 20 minutes from Panilla.
Soda Marcela is open everyday from 6:30 am to 10 pm and offers breakfast, lunch and dinner.
Use the following link to navigate to Soda Marcela
Googlemaps PIN to Soda Marcela
For more information, reviews and some additional photos of their entrees, check out their Facebook page.
And finally, Tripadvisor has additional photos and detailed reviews of the restaurant.