Soda Estero Azul
This soda is one of those restaurants that you would never know was there unless you were walking down a particular section of Playa Potrero and looking in the right direction.  You can't see it from the road and there are no signs directing you to it.  It is one of those hidden gems that you find by talking to others that live in the area.
It is an open air, simple Tico style Soda.  Every table has a great view of the ocean and the beach just a few feet away.  It is rustic and not modern but that is what makes this place special.
Most of the open air restaurant has tables underneath a cover that protects from the rain, and more importantly, the intense Guanacaste sun.  There are a few bench style tables out in the open and directly on the beach.  These are the best seats to enjoy one of Costa Rica's famous sunsets.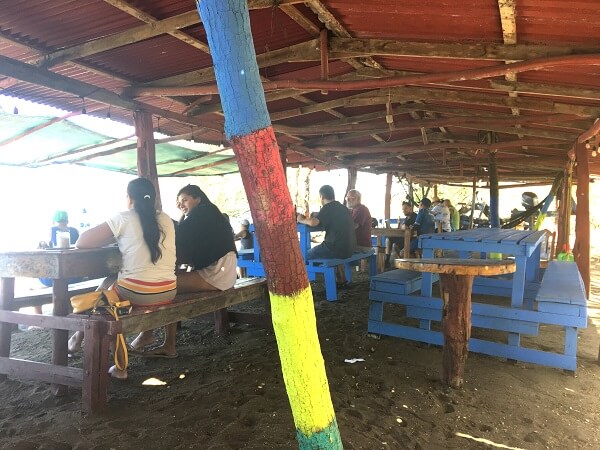 The menu has a large selection of entrees, from the standard Casados to lobster, fish and ribs.
I had the rice and shrimp.  It was absolutely delicious.  The rice was seasoned especially well.  It included hot and crunchy french fries and a small salad with the classic Costa Rica dressing of a mandarina to squeeze over the greens.  There were a lot more shrimp buried in the rice than the photo shows.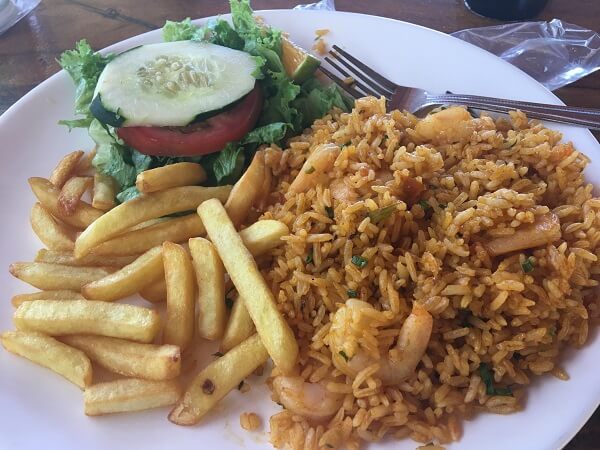 Mary had the pork rib Casado.  The meat the very tender and the white rice prepared to perfection.  It included black beans, plantains and a small salad.
Our entire lunch shown above plus two local beers, an ice tea, including tip was $22 USD.  A fantastic deal for some really good food.  And then there is the view.
Check our more review and photos on their Tripadvisor page below.
Soda Estero Azul Tripadvisor Page
How to Get to Soda Estero Azul
Estero Azul is located in Playa Potrero, 1km north of Playa Flamingo on route 180.  The entrance is on a dirt road through the parking lot of another restaurant located right at the sharp turn in the road.  Continue on the dirt road to the north to the very end, about 100m, until you are forced to turn left.  This is the parking lot for Estero Azul.