Puerto Viejo Beach
Puerto Viejo beach in Guanacaste, not to be confused with the Caribbean side town, is a beautiful stretch of sand that is completely different than its neighbor, Playa Conchal, just to the north.  In fact, Conchal and Viejo technically are the same stretch of beach, Viejo on the very south end and Conchal on the north end.

The sand at Puerto Viejo is darker and much finer than Conchal which is primarily made up of ground up sea (conch) shells.  The waves at Viejo are much smaller due to a long point and an offshore reef.  Often times there are no waves at all.  The water is that beautiful Caribbean turquoise and is often times much warmer than some of the other beaches in the area.  The very southern part of the beach is rocky but once you move 50-100 meters from the point, it is mostly a gentle sloping sandy beach.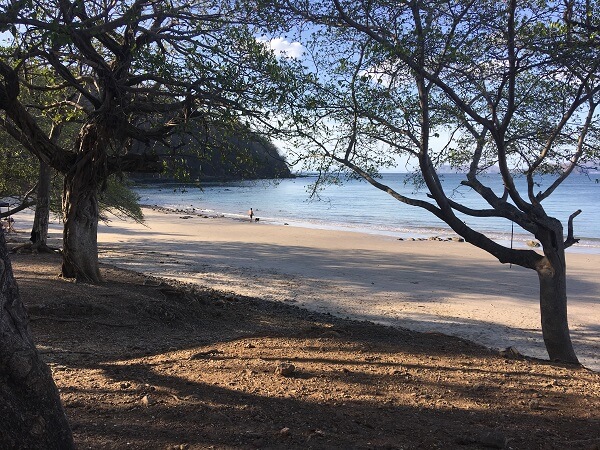 This is one of the best beaches in Guanacaste for children since there are usually no large waves or rip currents.  The only time the water can get choppy or waves larger than normal is with a swell out of the northwest (which is rare for this area) or when the Papagayo winds blow strong and direct wind waves straight into the beach.  These winds occur mostly between January and March.  Recommendation - If is it really windy, this beach should be avoided.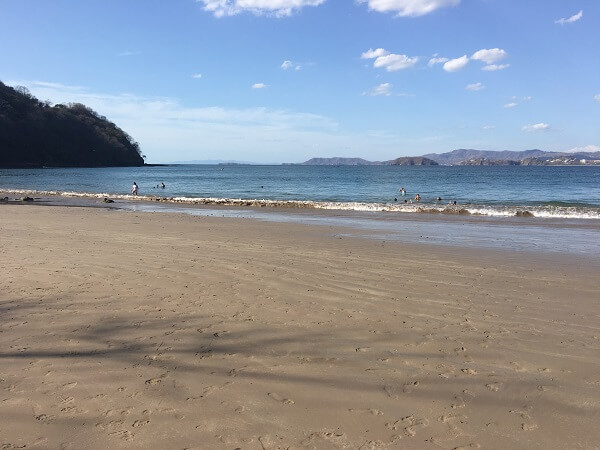 Amenities
There is a small soda, El Encanto, located next to the parking lot with restrooms, food and drinks.  There is a nominal fee for using the restroom.
The beach is also lined with trees providing shade until late afternoon.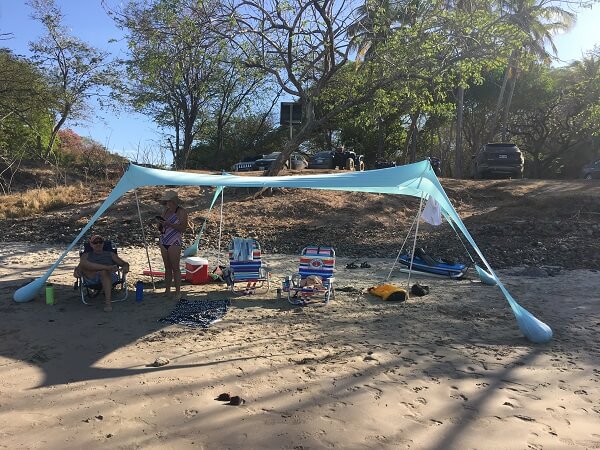 When to go
As with many beaches in Costa Rica, check the tides before heading out.  The tides in Costa Rica are extreme and can vary over 10 feet between low and high tides.  At high tide, many beaches will have no exposed sand to set up on.  Puerto Viejo beach is a perfect example of this with water up past the canopy shown above during high tide.  Best is to plan to arrive just after high tide so that you don't have to worry about an incoming tide.
Avoid weekends, especially Sundays, the two weeks around Christmas, the first week of January, Semana Santa (the week before Easter) and the first two weeks of July as crowds from San Jose Costa Rica come up to this area.
Prime or "high season" is December through the end of April.  Days are generally sunny, hot and few, if any, clouds.  In May the rains arrive but mornings are usually sunny with rain in the afternoon and evening,  This continues in June and July.  The rains increase in August and often times start in the morning.  September and October are generally very rainy all day and night long but there still are a few beautiful days during this period.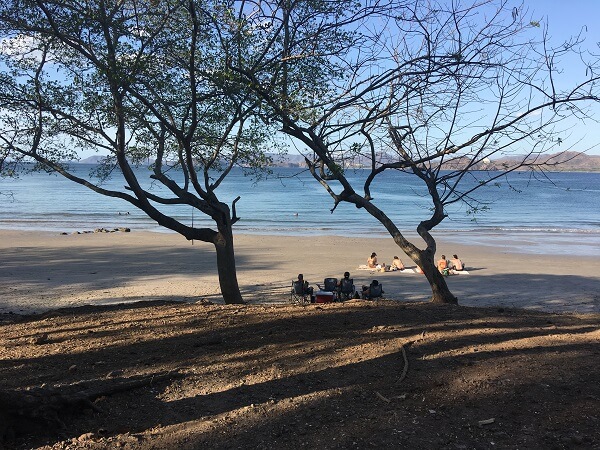 How to get to Puerto Viejo Beach
Puerto Viejo beach is at the end of an approximately 4 mile dirt road.  In dry season the road is generally in good condition but will have that washboard affect.  In rainy season it gets muddy and I have seen some really good sized pot holes that you will need to be careful of.  During this time of the year, four wheel drive is recommended.
Puerto Viejo can be accessed via route 933, either through the town of Matapalo or from a turn a little further to the east.  Either way the road is dirt the entire way once you turn off of route 933.
Googlemaps PIN to Puerto Viejo Beach
Access
There is a medium sized parking lot at the end of the 4 mile dirt road.  You are able to park right next to the beach.  At the furthest point away, you won't have to walk more than 50 feet to reach the beach
The lot does have a parking attendant and there is a 2,000 colones fee.  Bring exact change if possible.