Playa Grande
Just north of Tamarindo is Playa Grande.  As the name implies, this is a huge, expansive  beach with plenty of room to roam.  The extra large and shallow shoreline is perfect for family gatherings of all ages.  This is a great beach for surfing and boogie boarding.  The beach is located just north of the estuary in Tamarindo and stretches 2 for two miles to the north and includes the Marino Las Baulas National Park.

There is plenty of room to setup a tent, games and spend the entire day.  Because it is so flat and smooth, many families set up mini soccer fields with small portable nets.  It is also perfect for volleyball.

It is also a very popular for long walks, runs and watching the sun set.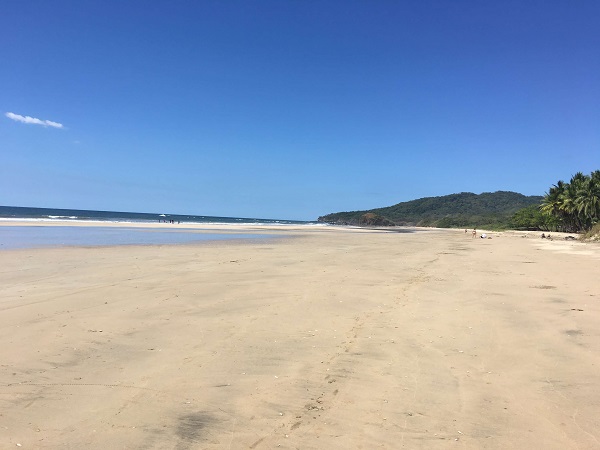 This is a great beach for the entire family.  The sand and shoreline are very smooth and not steep.  Some spots do have some rocky areas that may be hidden during high tide and just below the surface.  
Hint ! - Take your first trip during low tide.  This will help you find the perfect area on the beach for the type of activities that you will be doing.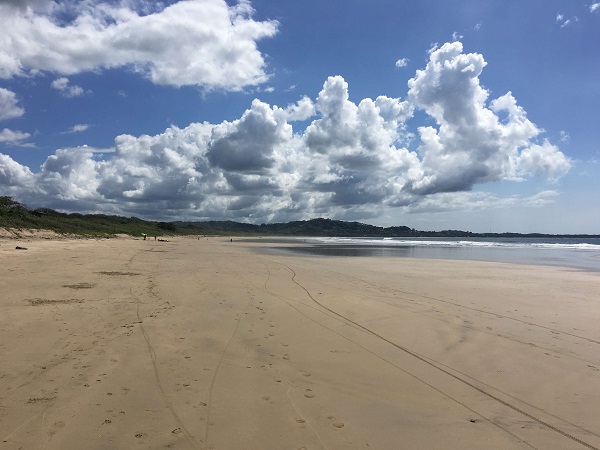 The tides in Costa Rica are extreme, swinging by as much as 10 feet.  There will be much less available sand at Playa Grande during periods of high tide and the fact that Playa Grande is so shallow the tide moves up/down the beach very fast.  It is a good idea to be aware if the tide is coming in or going out so that you don't have to move all of your belongings.
Amenities
There is very little, if any, shade available so bring your pop up tent or umbrella.
There are no restrooms or facilities at Playa Grande.  There is a Taco Star restaurant that has food and beer and is right next to the beach parking lot.
When to go
Sundays are the busiest days, especially during high season which run from December through April.  Avoid the two weeks around Christmas, the first week of January and the week before Easter, Semana Santa.  Even during these busier times the beach is very big and can hold lots of people.  However, parking will become more of a challenge when it gets crowded.
How to get to Playa Grande
Playa Grande is accessed via highway 933 that takes you through Matapalo, a paved road in good condition.  Enter Taco Star Guanacaste into Googlemaps or Waze.  Right next to Taco Star is the parking lot.  There will be a lot attendant that charges 3000 colones ($5 USD).  Even though there is an attendant, it is important to not leave valuables in your car, especially if they are visible.
Googlemaps PIN for Playa Grande
Access
Next to the Taco Star there is a short dirt path that takes you to the beach.  Then you just need to decide how far you are going to walk and set up your things.