Samara Costa Rica
Samara Costa Rica is a tiny and beautiful beach town isolated on the western side of the Nicoya Peninsula in the Guanacaste province.  Samara exemplifies what Costa Rica is all about, a large and expansive palm tree lined pristine beach and a laid back community far away from everything.
The beach is really large and is really move of a cove, especially at low tide when offshore reefs protect both the southern and northern portions of the beach from the waves.
The more populated and busier part of the beach is towards the north and adjacent to the central avenue that has dozens of small restaurants, shops and other stores.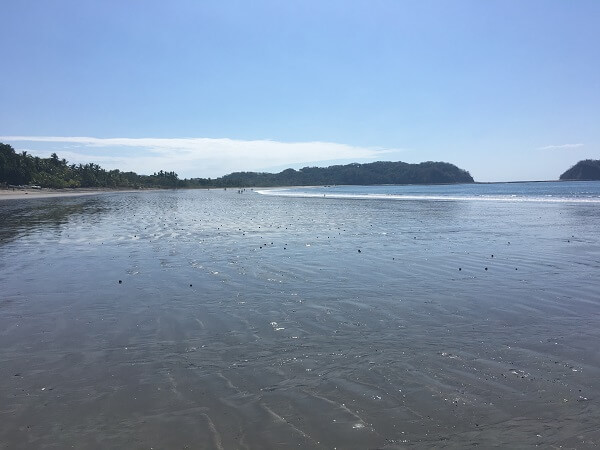 You can reach the southern, more isolated portion of the beach by driving down a dirt road that parallels the water where there is ample parking on the side of the road.
While at times the surf can be large, this is generally a calm, darker sand, shallow beach where the water gets very warm.  It is perfect for all types of family activities.  The day that we visited, there were dozens of paddle boarders far offshore but still within the cove area.
At the end of the main central avenue is a pier with restaurants and shops on both sides.  This is a great place to access the beach with parking close by.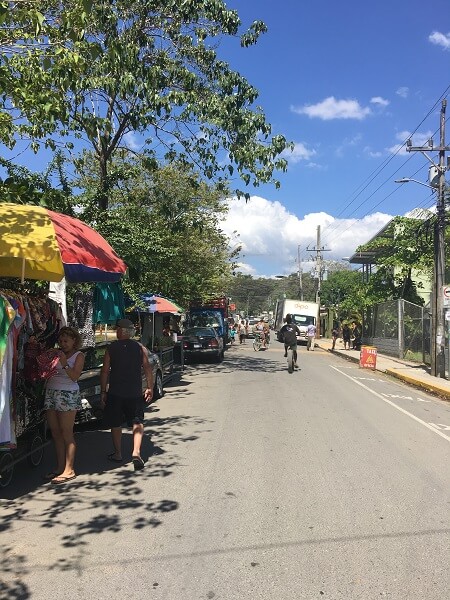 Street vendors, small shops and restaurants line the central town area.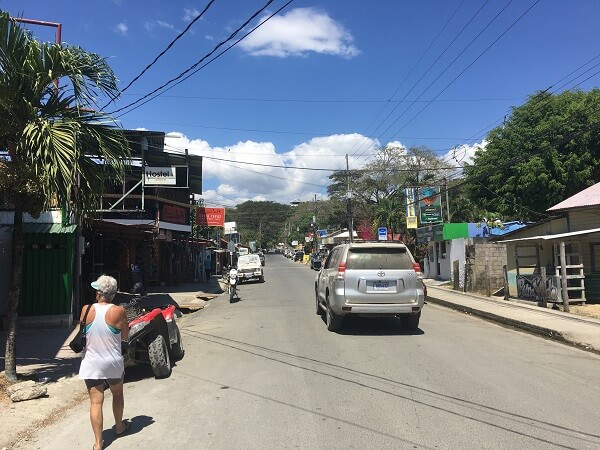 Most restaurants have small seating areas in the shade outside but only a few have ocean views.
There were several small street vendors selling clothes, hats and other apparel.
How to get to Samara Costa Rica
The best way to get to Samara is by taking route 21 from the north or south to Nicoya and then route 150 to Samara.  Route 150 is a beautiful two lane paved road that winds its way through the pastures and hills.  The condition of the road is amazing and we didn't see one of the dreaded Costa Rica potholes.  There are about 4 or 5 short bridges over streams where only one vehicle can pass over at a time and also one very narrow bridge barely wide enough for trucks or buses to pass.  The bridges are in great condition with good visibility of oncoming traffic.
It takes about 45 minutes to traverse the 25 miles from Nicoya to Samara.
You can also get to Samara via Nosara on route 160 but this 22 mile journey will be on a dirt road where the conditions will vary throughout the year depending on recent rains.  At times it may not be passable.
We really enjoyed our day in Samara Costa Rica.  It almost felt like we were on an island far away from everybody.  This is a great day trip destination to roam the streets, grab some food and hang out at the beach.