Guaitil Costa Rica

Chorotega Pottery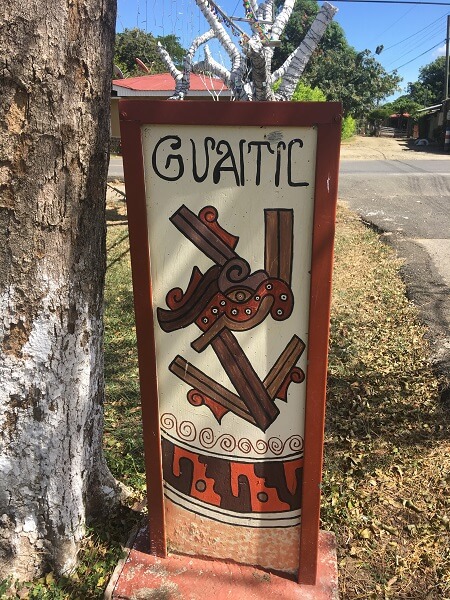 Guaitil, Guanacaste Costa Rica
Nestled in the hills just southeast of the town of Santa Cruz is the beautiful and quaint little town of Guaitil Costa Rica.  Guaitil is world famous for their Chorotega style pottery products made by hand with ingredients solely from the earth via a process that has been handed down from generation to generation for thousands of years.
The town is quiet and peaceful.  Once you arrive you will feel that you are stepping back in time especially after learning how the pottery is made.  Local shop owners are eager to show their wares and explain the pottery process.  Brush up on your Spanish because few speak English in this town.
The local clay is ground by hand and stone into a fine dust.  Water is then added to gain the perfect consistency.  The pottery is formed on an old fashion hand driven pottery wheel.  An assortment of shaping tools are used ranging from wood, leather, sticks and other hard objects. Color is added with natural ingredients including dye from the guaitil tree.  They are cured over time using a combination of sun and shade with just the right amount of water periodically added.  The final glazing occurs and the pottery is fired in the shop's kiln.  From start to finish, the pottery takes months to produce and the results are stunning with each piece being very unique with no two pieces being exactly the same.

Local home businesses line the town square in Guaitil Costa Rica, each offering beautiful and unique pottery products.  In addition there are a few pottery shops just outside of the town.  One of these that is worth stopping at is Chorotega Pottery Guaitil, shown below.  It is just a few hundred meters north of the town square.  The owner will take ample time to fully explain and show you the entire pottery making process.  They also have a very large showroom where you can buy some to take home.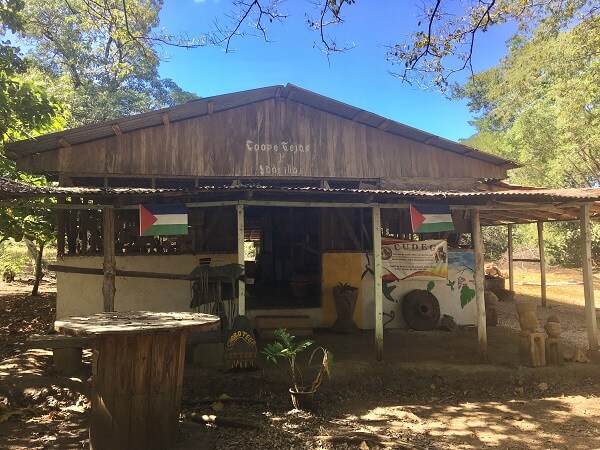 Chorotega Pottery Guaitil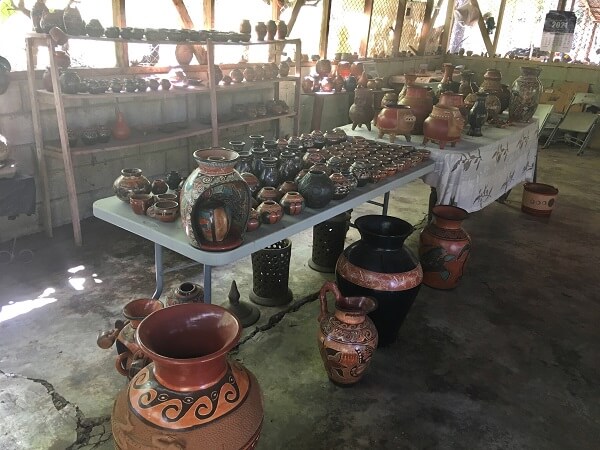 Chorotega Pottery Guaitil Showroom
Our Purchase
We loved everything so much, we could have spent hundreds of dollars here.  We settled on this gorgeous vase, about 16 inches tall.  It is hard to believe that this is made from clay with all natural ingredients.  It almost looks like it is made from marble.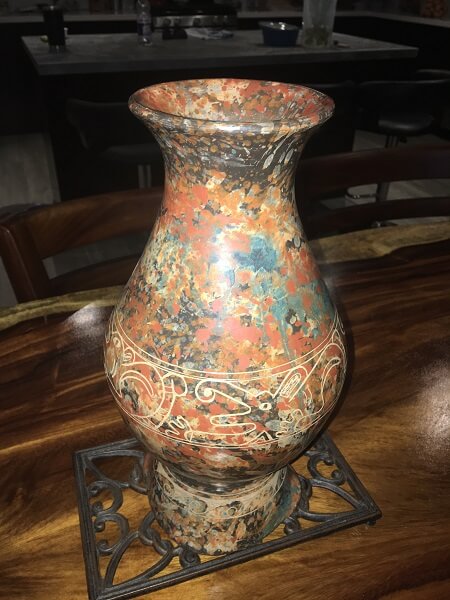 It was a tough choice, but we bought this one
How to Get to Guaitil Costa Rica
The town is located on highway 150, the old road between Santa Cruz and Nicoya.  It is lightly traveled since the majority of people drive the main highway 21 between the two towns.
The road from Santa Cruz to Guaitil is all paved and in excellent condition.  If traveling from Nicoya, located south of Guaitil, the majority of the road is gravel/dirt and unpaved until you reach Guaitil.  Conditions will vary depending on the season, dry or wet.  Our trip was in December and the road was very smooth with very few potholes.
Travel times are about an hour from Tamarindo, 1 1/2 hours plus from Liberia and Coco and 30 to 45 minutes from Nicoya.