Costa Rica Airports Map

There are two major Costa Rica Airports that have international flights and about a dozen domestic terminals that service the smaller towns.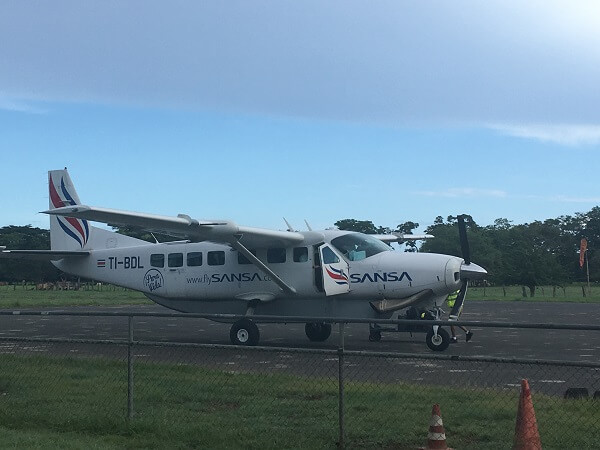 The largest airport is Juan Santamaria International (SJO) located in the central valley capital city of San Jose.  It services approximately 21 different airlines and has the best choice of destinations and prices of all Costa Rica airports.  SJO has two separate terminals, one for international travel and one for domestic.  They are within walking distance of each other.  If you are traveling within Costa Rica, you need to go to the smaller "Terminal Domestica" that is right next door.
The other international airport is located just outside of Liberia in the pacific northwest.   Since being built, it has been known as the Daniel Obuder Quiros airport (LIR) but recently was renamed as the Guanacaste International Airport.  Even with the name change, It will retain the airport code of LIR.  This airport services approximately 14 different airlines and has a good selection of non-stop flights to the United States, Canada and Europe although these flights are not as frequent as the airport in San Jose.
Depending on traffic, it is about a 4-5+ hour drive between San Jose (SJO) and Liberia (LIR).
Costa Rica Airports Map

Which Airport Should I Use ?
If you are planning activities in the central, southern or Caribbean side of Costa Rica then you will probably want to fly into San Jose (SJO).  Those going to the towns of Playas del Coco, Flamingo, Nosara, Santa Teresa, etc. will want to fly into the Guanacaste Airport near Liberia (LIR).  If you are headed to La Fortuna, it is midway between San Jose and Liberia and either airport is a good choice.  However, if you are arriving in the late afternoon or evening, it is best to stay the night somewhere and then get up early and make the drive.  There are many more selections for staying overnight near the San Jose airport than there are near the Guanacaste airport.  The Guanacaste airport has the Hilton Garden Inn located across the street but not close enough to walk to.  See our Driving in Costa Rica page before hitting the road.
Many people opt to arrive at one International airport and depart from the other because their travels are going to take them all over Costa Rica.  Recommendation ! - If you do this, I would recommend arriving at SJO and leaving from LIR.  Driving to LIR and returning a car is much easier than trying to navigate the congested San Jose area and stay on schedule.
Carriers
For domestic travel, the most popular carrier is Sansa Airlines.  It offers several daily flights to about a dozen small Costa Rica airports.
While you may book a flight from Tamarindo to San Jose, depending on who is on the plane and other bookings, you may end up making an unscheduled stop.  For example,  you may get routed to Liberia or Tambor at the last minute to drop off or pick up passengers.  You won't really know until you are on the plane and in the air.  So pay attention to where you are landing and don't just jump off at the first stop.
For international travel the major carriers American, United, KLM, Swiss Air, Southwest, British Airways, Copa, Avianca, Volaris, Alaska, Delta, Jetblue, West Jet, Frontier and Spirit have flights to and from Costa Rica.  However, not all of the above service both the Guanacaste and San Jose airports.
Costa Rica Airports - Summary
Your activities should play an important part in selection which of the many Costa Rica airports that you will fly in and out of.  It doesn't have to be the same.  Many people start out in one part of the country and leave from another.  Driving in Costa Rica is slow and returning from where you arrived may not be the best use of time.  Domestic travel is amazingly efficient however extremely simple.  The domestic terminals are sometimes just a very small building and runways are in the middle of a farm field.  It is a great experience but not for everybody.