Our First Year in Costa Rica
We arrived in April of 2019 and have now passed the one year mark.  Some people don't even make it that long before returning home.  The extensive research that we did before moving has really paid off and and minimized the number of surprises.  So far, good things have far outweighed the bad.
Some of the highlights have been the beautiful and uncrowded beaches where you can pull your car right up to the sand, pure and clean air and some of the best fresh fruit in the world.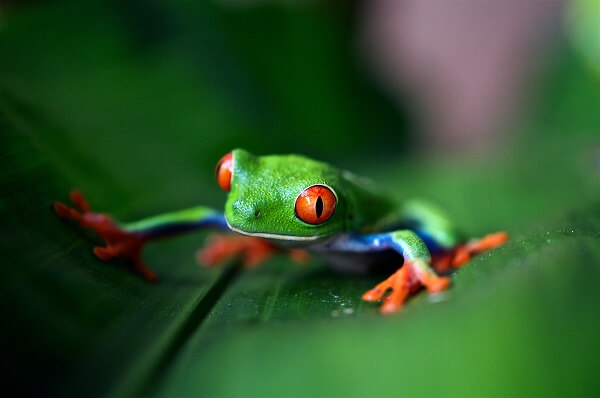 Frogs are Common
People
Costa Ricans are some of the happiest and friendliest people in the world. Before moving, everybody told us how nice everybody was, but it is not until we got down here that we really  truly understood this. 
My favorite story - Just two months after arriving, I was fishing in my Kayak and had traveled about 2 miles to a spot where it is common to catch bait fish and then use them to catch larger fish.  I had caught several and was having good success for the bigger fish too.  I ran out of bait fish and was having a problem catching more when this Costa Rican pulls up in a small aluminum boat, and right next to me, starts catching bait fish one after another.  After about 20 minutes of this, he comes over next to my kayak and hands me a brand new feather jig, still in the bag, and says, "more better", I thanked him and he waves and takes off.
Probably my least favorite people are some of my fellow ex-pats that moved down here from other countries, mostly the United States and Canada.  There are some that want it to be like where they came from, and they work hard to try to make it that way.  Many don't give back to the local community such as going to the local haircut shop, dog groomer, small bakery or buying orange juice and fruit from the roadside stand.  Many don't have any interest in learning Spanish or even make a basic attempt to try.  For us, this was the absolutely the most disappointing part of moving here.
Weather
Costa Rica weather in Guanacaste was pretty much as expected based on our research and input from friends but we did experience a surprise or two.  I have never seen it rain as hard as it does here.  We had 9 inches in three hours and 12 inches in one day.  In San Diego the average rainfall is 10 inches a year and some years only had 3-4 inches.
In green season, it is so green that it is almost fluorescent.  Absolutely beautiful.
In early November, the wet or "green" season ended like turning off a switch.  People always told me that it will rain, rain and rain in October.  Then all of a sudden you wake up to clear skies and it pretty much stays that way until mid April.  Same with the end of dry season, clouds, humidity and rain just appear out of nowhere and it stayed until early November.
We really enjoyed June, July and August.  Days usually started out sunny with clouds building throughout the afternoon with rain into the evening.  Wake up the next day and repeat.  September had more rain but not horrible,  October was pretty much a wash out but very peaceful and soothing.
Bolt of Lightning Hits Nearby
The lightning shows were amazing.  Lots of spider lighting along with some direct hits very close by.
November was my absolute favorite month.  Rains are gone.  Tourist have not arrived yet.  The fields and mountains are as green as they are every going to be plus the temperatures are pleasant.
Probably what surprised us the most was the intense Papagayo winds that started in January and continued through the end of March.  These are winds that blow from land to sea consistently between 20 and 40 mph with hurricane gust upwards of 70-80 mph, especially at night.  At times, it was scary.  These winds are most intense in the mountain slopes of central and northern Costa Rica, plus the beach areas south of the Nicaragua border to a little bit south of Tamarindo.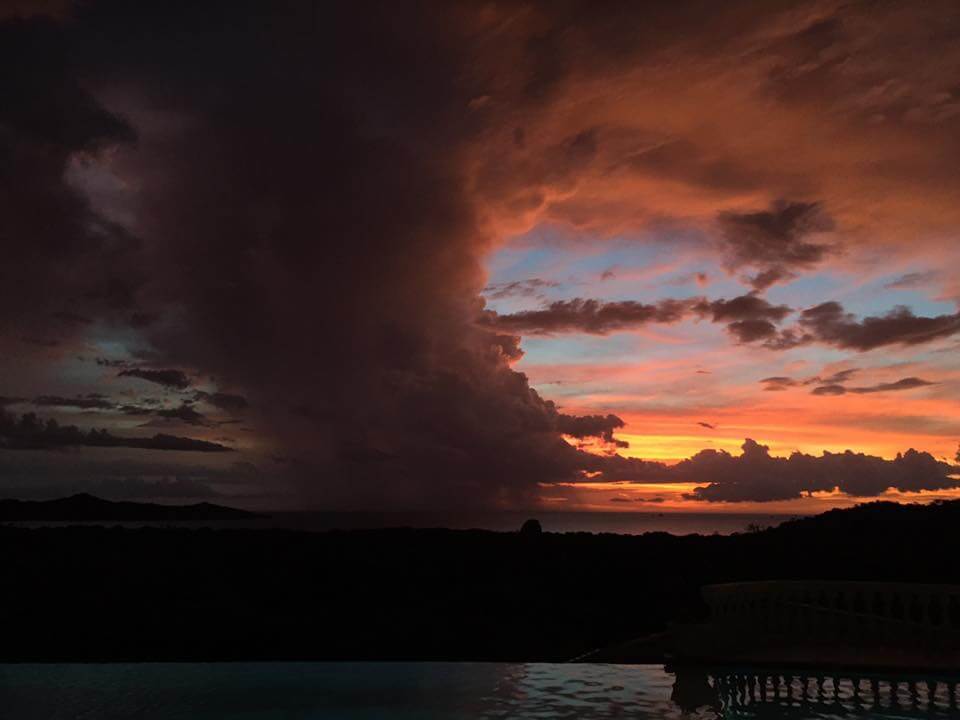 Classic Costa Rica Sunset
The sunsets, especially in the green rainy season, were better than those in Maui.
We found that the humidity was not as bad as we imagined it would be.  The air was pretty dry from January through March thanks mostly to the Papagayo winds.  May was the hottest and most uncomfortable month due to the high temperatures and start of rainy season.  Once June arrived, temperatures started to drop a little bit.  While always warm, we thought it was pretty comfortable all the way through December, even though daytime highs were still in the mid to upper 80s.  The lowest temperature in this last year was 70 degrees in October, just before sunrise, and the hottest was a little bit over 100 in April.
Bugs and Creatures
If you really don't like bugs, or at least tolerate them, then Costa Rica is probably not a place for you.  The most menacing and plentiful seem to be mosquitos and scorpions.
We found that the mosquito issue was much better than expected, at least for us in Playa Flamingo.  Go down to a restaurant by the beach in late afternoon/early evening and you are probably going to get bit a bunch.  Lotions and sprays do work well, especially Avon's Skin So Soft.
May and June had a noticeable increase in mosquitos due to the beginning of rainy season, but as the green season continues on, there were less of them.  The Papagayo dry winds of January through March limited the mosquitos very nicely.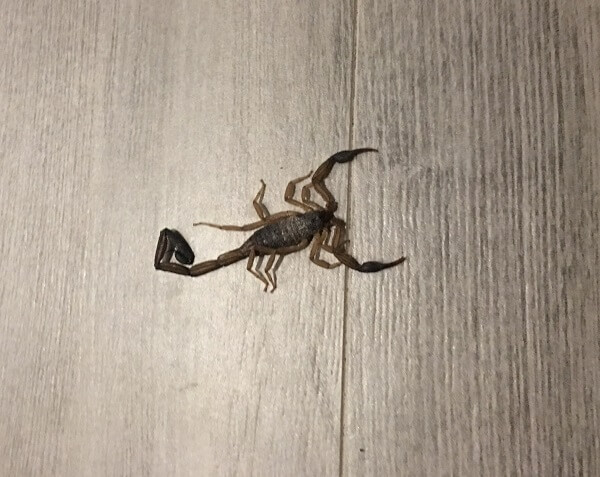 Medium Sized Scorpion
The number of scorpions was a big surprise, especially how many made their way into our house.  The Costa Rica scorpion is not as poisonous as its US counterpart, but the sting still hurts.
Costa Rica has saltwater crocodiles and they most often appear in the rainy season when they get washed out of rivers into the ocean.  Near the Flamingo harbor, where there is a river outlet, I walked up on one on the beach and got within about 20 feet before I saw it.  Fortunately, it saw me first and slowly slithered back in the water.
Driving
The roads were much better than advertised.  Most that run north and south are paved two lanes in very good condition.  Roads that split out east and west off of the main roads are often dirt and conditions vary.
There is no such thing as a freeway and few are divided or multi-lane.
Driving at night is not one of my favorite things to do, especially in bad weather.  Bicyclist with no lights and riders with dark clothing are common.  Pot holes can sneak up on you if the weather has been bad for any period of time.  Slow moving vehicles with no lights are sometimes an issue.
People drive at all speeds, from the very slow, I don't have a care in the world,  to those who tailgate and can't wait to pass. 
On average It takes forever to go almost anywhere.  Slow moving trucks, cattle in the road, road closures due to fallen trees all add up to about a 35-40 mph average.
What looks close on the map, often times requires driving in a big loop to get there.  Nothing here is in a straight line.
Most cars on the road are in very good condition.  This is probably because they are so valued due to the high cost of buying and owning one, plus Costa Rica requires periodic vehicle mechanical inspections.
From talking to friends during our first year, finding a good mechanic is going to be challenging.  So far I have done my own maintenance but the day will come when I need to find someone.
Get a ticket, the police take your license plates.  Great idea for making sure you pay your fine.  Simple and effective.
Police can stop you at will.  There is no such thing as needing to have a cause.  Roadblocks and checkpoints are common.  We have been stopped about a dozen times.  They checked our passports, driver's license along with car registration and vehicle inspection certificates.  All our interactions have been great and the police have been very polite.
Cost of Living
This is an expensive country, but for us, much less expensive than San Diego California.  Not everyone will find it cheaper to live here.
We were surprised by the amount of paperwork that had to be filed to maintain our LLC that our house is in.  Part of this is due to new tax laws recently enacted.  All filings require an attorney and some filings will have to be done on a yearly basis.  This is going to end up being much more expensive than we anticipated.
Car registration fees were more than we expected.
Gas and electricity were pretty much on par with what our research indicated.
We ate at several local Sodas.  They were inexpensive and had fantastic food, better that I had imagined.
Cleanliness
Costa Rica is a really clean country.  You don't see nearly the amount of trash along the side of the road as you do in the United States.
It is common to see the locals raking leaves and sticks up into a pile and burning them with a small fire.
In most parts of the country, you can drink the water and not be concerned.  However, it is still recommended that if you are in a remote location and not familiar with the area, that you drink bottled water.
There is no smog and the air is amazingly clean.  Get into the rain forest and it becomes an oxygen high.
Miscellaneous Surprises
The fresh squeezed orange juice is delicious.  It is a combination of sweet and tart oranges and can routinely be found in fruit markets and roadside stands.  It usually costs about $1.75 for a 12 oz plastic bottle and has been one of the big highlights in the first year of living here.  You won't know what I mean until you experience it.
Going to the bank requires some endurance.  Opening an account take about 2 hours and you must have a Costa Rica phone number.  
Paying our property tax at the local Municipality was an experience.  You sit down in a serpentine pattern of chairs with the person up front being the next one to be helped.  As each person completes their transaction, everyone gets up and slides over one chair.  If you move to a new row, you take the chair in front of you and then slide in the opposite direction of the previous row.  This continues until you are first in line.  Really effective but weird.  No need for a ticket number machine or not hearing when your number was called.  Simple and effective.
For us in Playa Flamingo, internet speeds are amazingly fast and we can stream live sporting events, Netlix, Hulu without any buffering.
Watching NFL football on the major networks such as Fox was weird.  The games are US feeds with US announcers but occasionally the English feed fades away and gets replaced with Spanish for a few minutes before returning.  Pre and post games are all from the Mexico affiliates and in Spanish.  During the Superbowl, they did not show the US commercials.
Having a VPN is a necessity, both in terms of security and being able to stream from the US.
Electrical power during dry season was very reliable.  However, when it started to rain in May, short duration outages occurred daily.  They ranged from seconds, to a few minutes to a few hours.  In the first year, we never had an outage that lasted more than 4-5 hours.
Recycling in Costa Rica is limited and not nearly as advanced as the country's marketing portraits it to be.  This was a shocker to us.
Solar is just emerging and is not widely accepted, although it may be gaining some momentum.  The utility companies apply penalties if the system over generates.  The high cost associated with installing a solar system and the over generation penalties results in a longer payback period as compared to other countries.
We saw a few cases where someone needed an ambulance, and it didn't get there for a long time.   If something life threatening happens here, there is a good chance you are going to die unless you live very close to a major hospital.
Unless you are near San Jose, you won't find anything like a Home Depot or Lowe's.  Near Liberia there is the "Do It Center" which has a nice supply of things but is nowhere close to Home Depot in terms of selection.  Looking for that dedicated isle with every size and type of bolt, screw or other fastener, forget about it.
Several of the smaller hardware stores have most items behind the counter and you have to speak to someone to try to find what you need.  This was really challenging, but also very rewarding when you walked out with what you were looking for.
Final Thoughts
With everything that we have learned, we are really looking forward to the future.  Our weekly Spanish classes are starting to pay off and I don't say as many stupid things anymore.  So far we are happy with our new home and look forward to many more years of Pura Vida.