Building our Home
Selecting the Lot
Lot selection is one of the most important prerequisites for building a home in Costa Rica.  Soil type, slope, view and topography are all very important due to the extreme weather, heavy rains and intense sunshine.
The absolute most important requirement for a lot is water rights.  Lots can be sold in Costa Rica without water rights, and if you don't have them, you won't be allowed to build.  You will then be the proud owner of a piece of dirt.
The second most important thing is topography.  Are you near a seasonal stream ?  Will the lot have to be leveled, and when complete, will it need retaining walls?  Depending on how large, retaining walls can add $10,000 to over $100,000 USD of cost to your project.  Do you have a large hill around the house that presents a potential land slide problem ?  Is the lot on flat land ?  It may look fine in dry season but floods during heavy rains.  Soil types are also important.  Many areas of Costa Rica have sandstone or clay soils.  Both can be challenging to build on and may require soil replacement before the build process can start.
What type of access road leads to the lot, paved or dirt?  If dirt, do you have to drive through any creek beds to get to the lot?  If so, you may be trapped during heavy rains or not able to return home due to swollen streams.  Some dirt roads look fine in dry season because they have been graded.  However, in green or rainy season, four wheel drive may be needed and even then, may be impassable.
The Costa Rica sun can be intense.  Positioning of the home to take advantage of shade while considering the view is really important.  In the cooler mountain towns, you may want to take advantage of the sun to heat things up.  In the Pacific Northwest province of Guanacaste, important consideration must be given to the sun and shade, especially during the afternoons.
Types of Construction
The majority of homes in Costa Rica are constructed with concrete, steel and rebar.  Wood is not used for the main structure due to humidity, mold and termites.  There are three different types of construction methods that should be considered.  In all three, the roof structures are basically all identical and consist of coated steel framing, corrugated galvanized metal sheets and Spanish type, flat slate or fiberglass tile roofs.  Footings are a combination of concrete, rebar and cement blocks.  The difference is in the walls and the options are 1) galvanized steel, 2) block/rebar/concrete and 3) pre-formed/poured concrete/rebar with air gaps.  There are advantages and disadvantages to each as noted below.
Galvanized steel
Quick to install
Moderately priced
Does not hold the heat or humidity.
Susceptible to rust if not properly coated
Easy to repair if something goes wrong inside a wall
Requires inside drywall and outside fiberglass sheathing with stucco
Requires insulation inside the walls
Block/Rebar/Concrete
Holds humidity
Good heat resistance from the sun hitting an outside wall but can also hold heat inside the house.
Relatively inexpensive
Good for sound proofing
Difficult to repair if something goes wrong inside a wall
Does not require insulation
Exterior finish does not look as good as a steel framed wall using stucco.
Pre-Formed/Poured Concrete
Manufactured off site
Excellent structural integrity
Excellent sound proofing
Air gaps in concrete walls reduces heat transfer

Difficult to repair if something goes wrong inside a wall

Does not require insulation

The most expensive option
Provides a nice smooth exterior finish
Wall joints are connected with integrated rebar.  Not sure how well joints would hold up in a large earthquake.
Costs
Expect to pay anywhere from $90 USD to $180 per square foot for construction and material.  This is dependent on the construction type noted above and the selected finishes.  The price per square foot does not include architect fees, build permits or water and electrical connections.
Our Choice
After touring around Costa Rica during several trips, we decided that our favorite region was Guanacaste and the town of Flamingo in the Pacific Northwest.  We picked this area primarily for the weather, proximity to beautiful and uncrowded beaches and also for the great fishing.
The builder for the development that we selected uses the galvanized steel method for the walls described above.
Blocks, cement and rebar are used for the foundation.
Wood is not used anywhere except for internal trim (doors and cabinets).  
The plumbing is run around the perimeter of the house and enters through the foundation at the appropriate spots.  No plumbing is run through or under the foundation.  This makes maintenance easy if there should be any issues.
We waited until the end of the green (rainy) season, and also closer to our move date, to kick off the build, and so that we would be nearby during the final 6 months of the project.  I can't reiterate enough how important it is to be present during the build to keep an eye on things.
Construction started off in November of 2018 and completed in the first week of October 2019, about 1 month later than expected. 
We purchased a double lot, about 1/4 acre in size.  View from our lot looking west.  In Costa Rica, the emphasis of the house is the backyard.  Therefore we positioned our patio deck, pool area and view from the backyard toward the ocean.  Our lot was relatively flat with paved roads on both sides that would direct water down the street away from our house.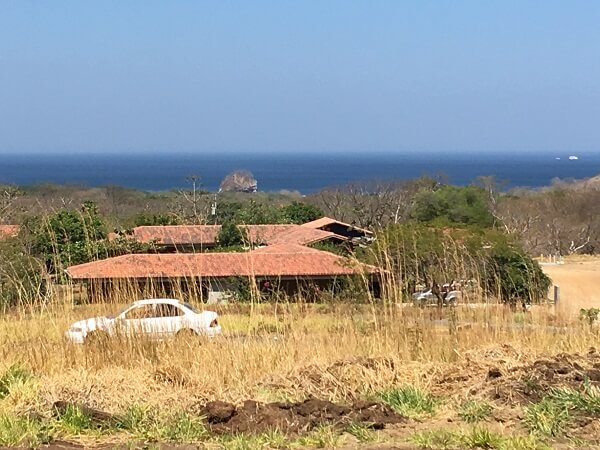 West View of Ocean
In March of 2018, I traveled from San Diego for a 3 day weekend and spent a full day working with the builder and architect to design our 1750 sq ft home, single story, 3 bedroom, 2 1/2 bath with salt water pool.  We started with an existing plan and made some major changes.  The stock plan was about the right size but all three bedrooms were on one side, in a row.  We created an extra wing and moved the two bedrooms to the other side changing the house from a "L" shape to a "U".  We then expanded the kitchen and added an island.  I needed some type of small garage, not necessarily for a car but for a fishing kayak on a small jet ski trailer, so we added this.  The kayak room will also double as the location for the pool equipment and will have an extra tall ceiling for storage.
In one day, I had a full design, fixed price quote and build duration.  Included in the price are all finishes, cabinets, built in appliances, ceiling fans, flooring, counter tops, landscaping, patio deck/cover, salt water pool including pump and filtration system.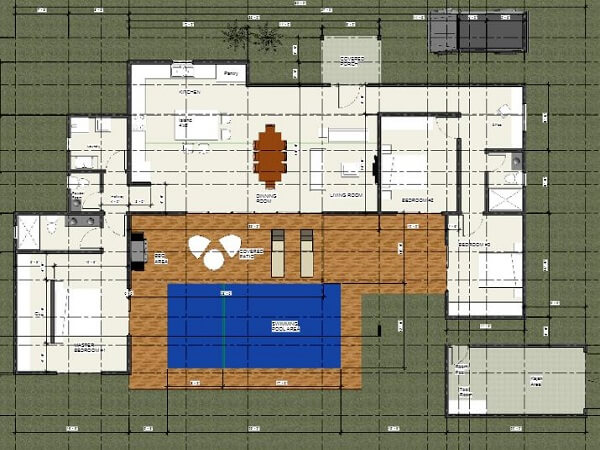 Our Floor Plan
In August 2018, Mary and I made a quick trip from San Diego to San Jose Costa Rica to pick out our finishes with the builder.  We took a midnight red-eye from Tijuana via Mexico City and landed Friday morning around 11am.  We were picked up at the airport by the builder and visited several of the his suppliers to select flooring, counter tops, shower tile, fixtures, toilets, sinks and appliances.  Got it all done in a really fun, but long, day.  Didn't get back to the hotel until about 10:30 pm.  Then we left San Jose late Saturday evening on our way to Lake Chapala, south of Guadalajara Mexico, to visit friends who also left San Diego and are building their retirement home.
Construction kicked off on our 1750 square foot, one story house, as planned in early November.  Foundation footings and rebar are shown in progress.  View is looking down from the hill above and to the west.  After grading, block, rebar and cement are used to level out the foundation
Footings Nearly Complete
Our foundation was completed in January.  Great progress considering the amount of footing preparation, electrical and plumbing conduit and grading that was required and that there was also some time off for Christmas.
The builder ensured that the foundation was kept wet all the time so that is would cure correctly, especially since it was the middle of dry season.  View is from the north looking south.
Concrete Foundation
We just returned from Costa Rica in February 2019 and took the following photos.  The foundation and rough plumbing was completed and the steel structure just starting.  View is looking to the west.
Start of Framing
View below of master bedroom looking south.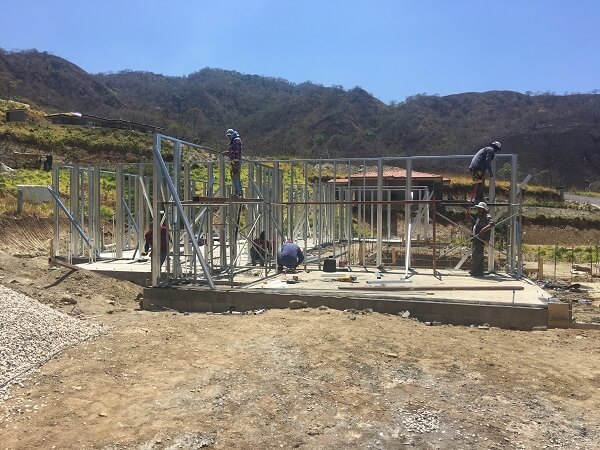 Initial Framing Phase Nearly Complete
View below of living area and pool.  The house is U shaped with a 12x25 foot saltwater pool in the middle.  Master bedroom will be on the left and the two guest rooms on the right.  All bedrooms will have sliders that open up to the pool area.
Start of Pool
Early April.  View looking north.  With the exception of the kayak room in the foreground, the framing is complete.  We are very impressed with the structural integrity of the build.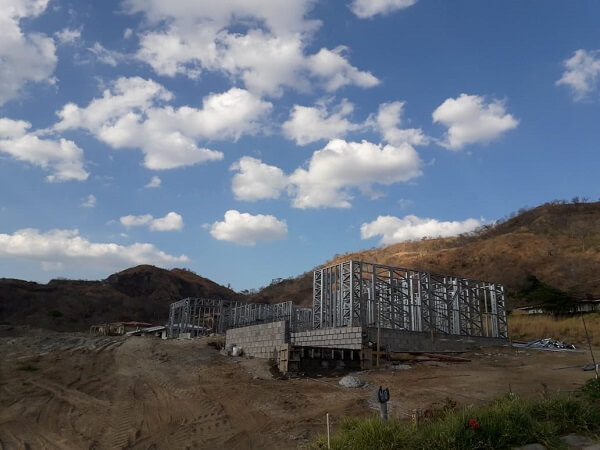 Framing of Main House is Complete
Late April.  Pool will have a deck that is only 10" deep so that we can place chairs on it.  Builder suggested that we leave a swim channel and not take the deck all the way across.  This was a great idea.  Steel roof structure has now been started.  Steel is welded and then painted for protection against moisture and rust.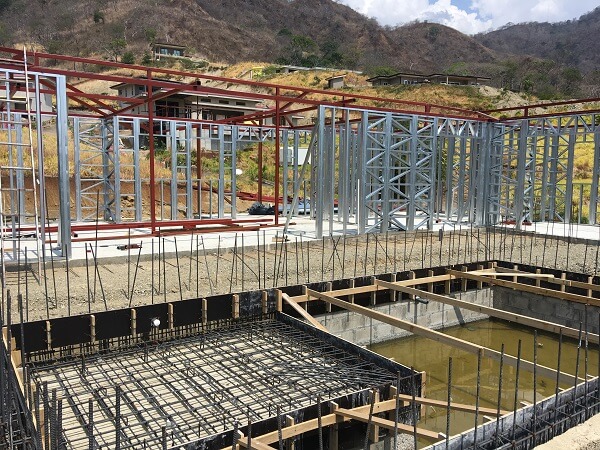 Pool and Deck Area
Early May.  View is towards the front of the house looking west.  With the exception of the eve edges, the roof structure is complete.
Main roof structure is complete
All of the roof structure is welded and coated to protect against moisture.  The eves are over-sized due to the large amount of rainfall that occurs during green season.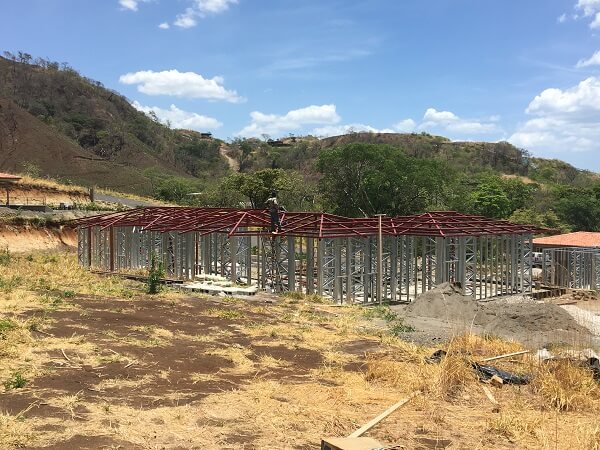 Work on the roof eves is about to begin
Early June.  DensGlass outer wrap and corrugated aluminum roof underlay is nearly complete and just in time for green season and the heavy rains.  Now, work on the inside can proceed without the weather impacting the schedule.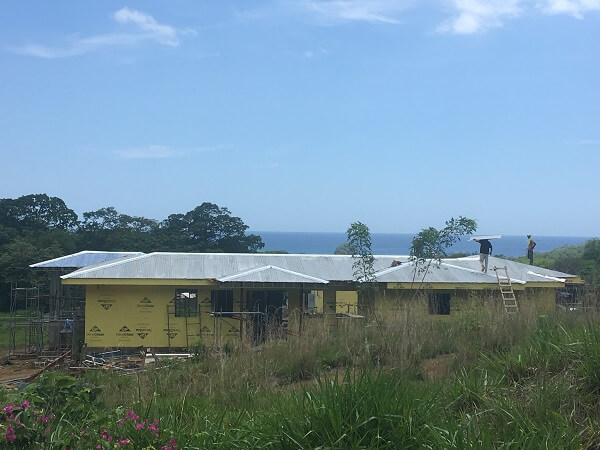 Roof and exterior walls are nearly complete
Mid June - Lots on interior work going on, electrical, plumbing and pool/patio.  Below is the prep for the base concrete around the pool.  One thing that really impresses me about this builder is that all of the over-sized rain gutters are directed to large underground PVC pipes that routes all of the water away from the structure and to the drainage system for the neighborhood.
Between the two white PVC drain pipes is an under-concrete drainage trough.  Once the final patio coral stone finish is completed, small slits will be made just above the trough to drain any water away from the patio.  These are little things that most builders, even in the US, do not install, but make a big difference in the final quality of the product.
Structure for the patio is ready for cement
One day later, the patio and pool cement is poured and the finish work on the pool begins.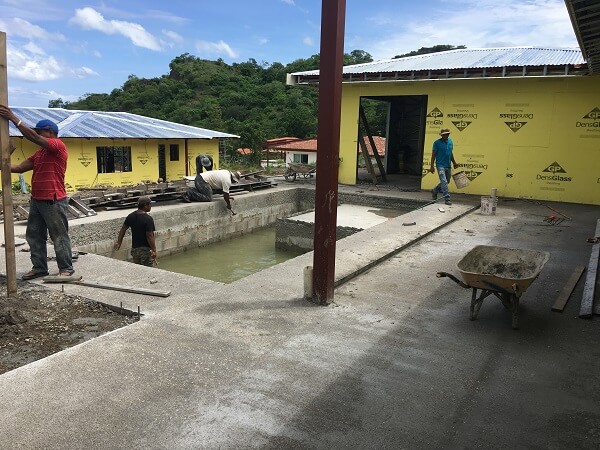 Pool and patio concrete base are complete
Early September.  Pool gets steps, seating area and table.
Pool is nearly ready for final finish coat
Base stucco coat is complete.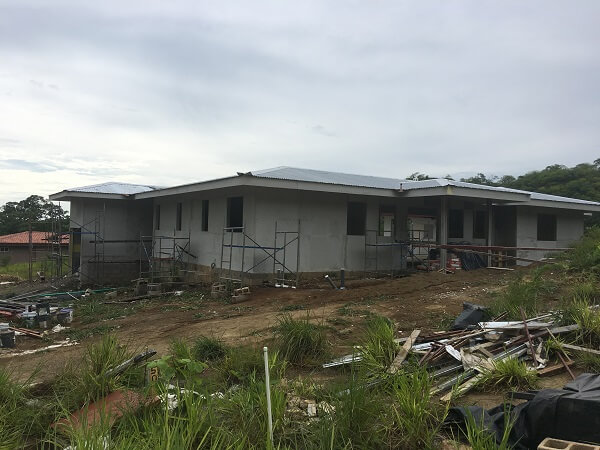 Stucco base coat
Mid-September.  Windows are now installed along with roof and final stucco color coat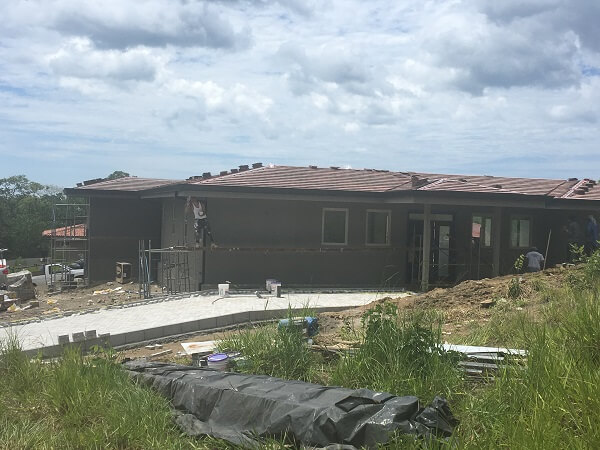 Roof and Stucco Color gets installed
We decided to install a beautiful paver driveway in the front of the house.
Paver Driveway
Entryway and front door are just about done.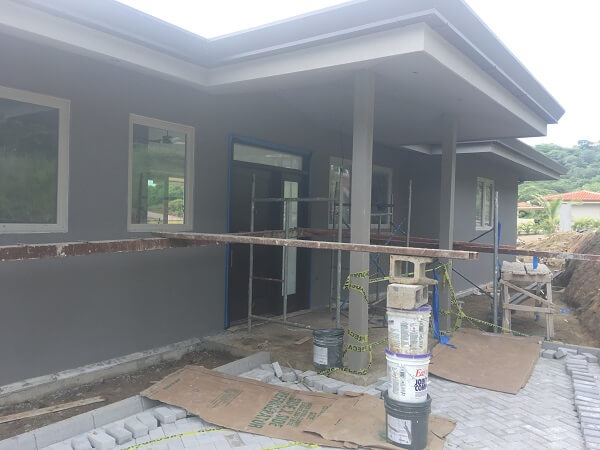 Entryway
Kitchen cabinets are now installed and work beings on the appliances.
Kitchen
We designed our house to be open concept with kitchen, dining and living room all combined as one room.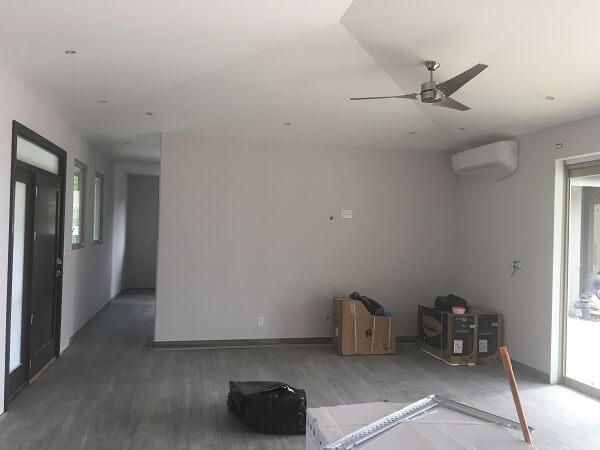 A portion of the great room
The pool and patio are complete.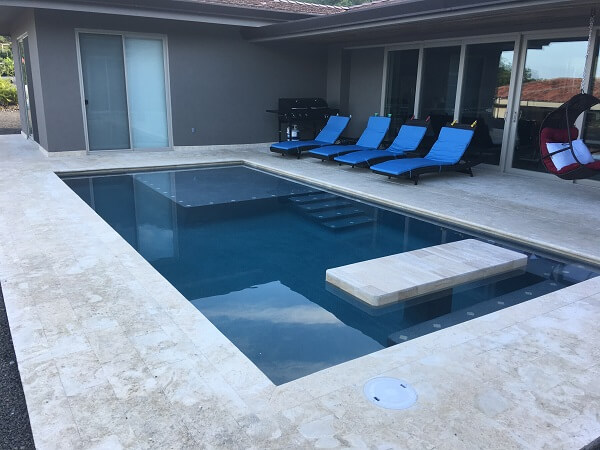 One of the big highlights of our great room and back yard is the 24 foot slider that completely opens to the patio and pool area.