Our Second Year in Costa Rica

Not What We Expected
We spent most of our first year settling into our new home, exploring the best places to buy things, meeting new friends, completing our landscaping, furnishing our home and having the builder complete a pretty long list of items that needed to be reworked or completed.  This involved waiting for construction people to show up on a specific day and time.  95% of the time this did not happen as planned so there was definitely some frustration there.  However, this is Costa Rica and we knew beforehand that this was going to be an aspect of Costa Rica that would be different than the United States and very challenging.  Eventually everything was done and we were ready to get out and explore.
We started 2020, and concluded our first year in Costa Rica, by going with some friends to the Costa Rica Blues Festival. This is a four day event with a big outdoor concert on Saturday from 11am to midnight.  You pack some folding chairs and find a comfortable seat in the shade in front of the stage.  We had an absolute blast.   That was the end of the fun for 2020 and it was only February !
The original plan was to complete our house and then go out and explore all that Costa Rica has to offer.  Well, we completed our house, but COVID hit in March of 2020 and the country locked down hard.

We had a few groups of visitors at the beginning of 2020 and they barely got out of the country before all air travel was shut down due to COVID.
Then during one of our morning walks on the beach, we found a small piece of coral that looked like COVID, an ominous sign of things to come.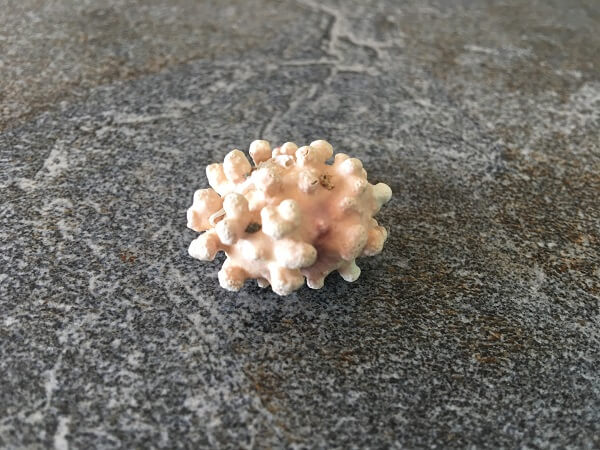 Lockdowns started by closing all beaches completely, prohibiting driving between 5pm and 5am and on certain days of the week.  If your license plate ended with an even number, you could drive on even days.  Likewise with odd numbered plates.  However, even on the days that you could drive, you could only go to the store, bank or doctor's office.  Police checkpoints were common and you needed proof of where you had been.
Both the Nicaragua and Panama borders were closed and all air travel in and out of Costa Rica shutdown.  The exception were some emergency flights so that tourist who were stuck here could leave, but that was it.
Just when you thought that it couldn't get any worse, it did.  All alcohol sales were stopped.  It started out in the popular beach communities like Playa Flamingo where we live and slowly worked its way inland.  You could not buy anything, no beer, no wine, no nothing.
This was followed by prohibiting sales of all non-essential items.  Walmart and Pricesmart had plastic wrapped around all of the items in the electronics section,  the alcohol section and anything else deemed non-essential.
It was a very confining feeling, living in a foreign country, locked down so hard that you couldn't go anywhere, couldn't do anything, including just taking a walk on the beach.
We were allowed to leave the country if we wanted, but we could not return due to the border closures.  So we just stuck it out.
The locals were hit hard, especially in this area of the country where tourism is such a large part of the economy.  Many people expected crime to go off the charts but it didn't.  With some help from the Government and charities, the majority of Costa Ricans fought their way through it.  The country came together and a lot Costa Ricans, plus people who had moved down here from another country, donated money and time to help the community.  It was a side of Costa Rica that we had never seen and it made us feel good to see the outpouring of help and the sincere appreciation for it.
Overall, Costa Rica did a pretty good job at containing the virus.  Every store that we went to had requirements for masks, temperature checks and the use of sanitizing gel for both the hands and the shopping carts.
Later in the year, despite feeling isolated and stuck, we realized that living in Costa Rica was probably one of the best places in the world to be, especially where we are, in the sparsely populated province of Guanacaste.
As the year progressed, driving restrictions were reduced and people were allowed to move around a little more.  Businesses started to reopen and recover, although there were strict capacity limits and reduced business hours.  The situation continues to improve and restrictions further relaxed, even with the presence of Omicron.
Our second year was a bust.  We did things around the house such as working on the computer, gardening and we watched a lot of Netflix.  We also didn't get COVID so the year was really a success.
Year 3 will conclude in April of 2022 and we are actually starting to get out and see the country.  Costa Rica is a really great country, and even with the lockdowns, we feel as though we made the right decision moving here, especially given all of the craziness in the United States right now.
Pura Vida