Costa Rica Fishing
One of the main reasons we decided to move to Guanacaste Costa Rica, is that this area has some of the best fishing in the world, both inshore and offshore.  The Guanacaste province is in the Pacific northwest corner of Costa Rica and touts some great fishing for Tuna, Sailfish, Marlin, Dorado (Mahi-Mahi), Jack, Roosterfish, Amberjack, Snook and numerous other species.
While fishing is great all over, there are two main towns where great fishing originates from, Playa Flamingo and Playa del Coco.  Both have protected harbors and easy access to normally calm waters.
In August of 2019, construction started on the new marina in Playa Flamingo in the same area as an older marina that was started several years ago but never finished.  The older marina was designed to be well protected from the ocean, not only positioned next to a protective point, but also by several rocky jetties around the marina.  There is a small launch ramp within the basin that allows me to get my kayak into the water easily without worrying about changing surf and wind conditions.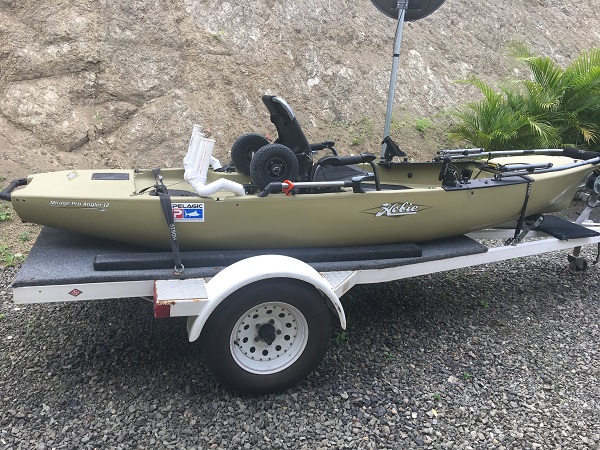 One of the major items that I brought with me from San Diego, was my Hobie Pro Angler 12 kayak on a converted jet ski trailer.  The trailer allows for easy loading, and by having it, I didn't have to buy a vehicle specifically to carry the kayak on the roof rack or in a truck bed.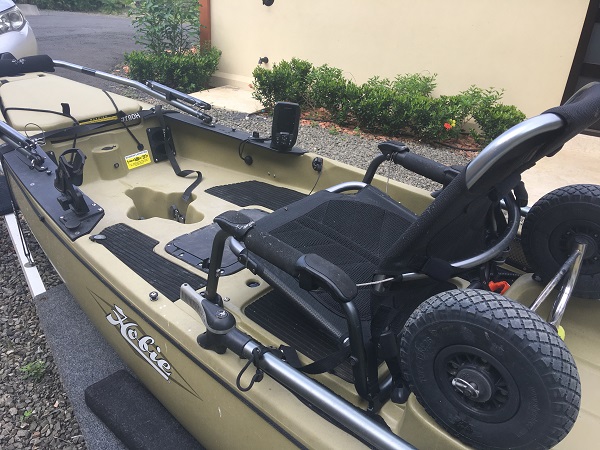 While living in San Diego, a had a Ranger bass boat that I loved but it was limited to only freshwater lakes and the Colorado River.  Once we decided that we are all in and moving to Costa Rica, I sold the bass boat to a guy in Arizona and he just happened to have the model of kayak for sale that I was looking to purchase.  As a bonus, it was on the jet ski trailer and also came with all the bells and whistles, fish finder, stand up bar, rod holders, etc.  Once I purchased it, I tested it out for several months in both large and small freshwater lakes and also in San Diego's Mission Bay.  I didn't want to learn the capability and  how to operate the Kayak in the open Costa Rica ocean where I knew that there wouldn't be anybody around if something went wrong.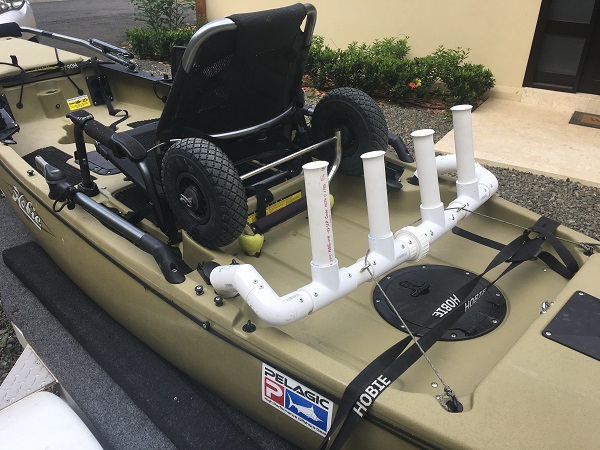 The Hobie PA12 is super stable.  The Garmin Striker 4 fish finder is amazing, especially considering it can be purchased new for just over $100 USD.  It has a color screen and GPS mapping with waypoint features that I use all the time to mark favorite fishing spots and also to keep track of underwater reefs and obstructions, which in this part of Costa Rica, are numerous.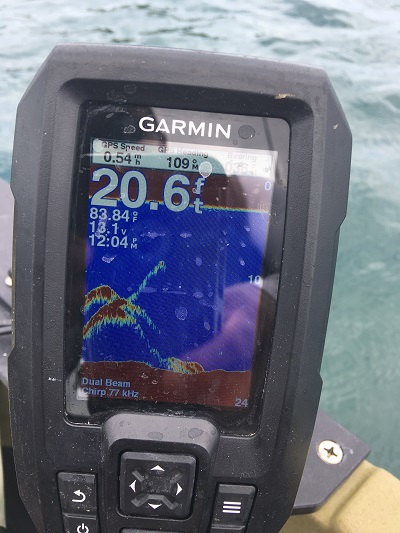 Learning About the Ocean and Weather
The very first thing that stood out here was the huge tidal swings.  It can range from between 7 to 9 vertical feet which is a lot of moving water.  But most importantly, it exposes underwater reefs that can be just under the surface.  In the Playa Flamingo and Playa del Coco areas, there are lots of underwater rocks and reefs just waiting for you if you are not careful.   These are located close to shore to several miles off shore, and to the novice, are pretty random in location.  I could see them come and go from shore which peaked my interest to do further research, and also to be extra cautious when on the water until I understood the area.  If you get near an underwater reef at just the wrong time, ocean swells can instantly appear, swell up and break out of nowhere.
Costa Rica, especially the Guanacaste area, has two seasons, dry and green.  The green season, which runs from early May to mid-November, sees the most amount of rain but is also the time when the fishing is the best.  With few exceptions there is little wind in green season and the ocean is calm, and many times, like glass.  Dry season brings virtually no rain and but much more wind.  However, when the wind blows, both in dry and green seasons, it usually blows from land to sea, making the ocean in this part of Costa Rica much calmer than if blowing in the opposite direction.
One must always keep an eye of current weather conditions because wind and thunderstorms can appear out of nowhere and catch you off guard.  I keep my cell phone handy at all times and monitor storm clouds, lightning strikes and wind reports if things start changing.  A kayak can only move at between 2 and 4 mph, maybe 5 or 6 mph if I really push it.
Fishing Areas
Since I am new to Costa Rica, I am being pretty conservative in where I am fishing until I better understand the underwater terrain and weather patterns.  A typical day will see me pedal my kayak between 4 to 6 miles.  The furthest out that I have been is about two miles and I have been focusing on some of the underwater reef ledges and surrounding islands in the Brasilito, Potrero and Flamingo areas.  Below is a map of Flamingo point/Isla Plata to the south and Potrero beach to the northeast.  I have noted the locations of some of the types of fish that I have caught.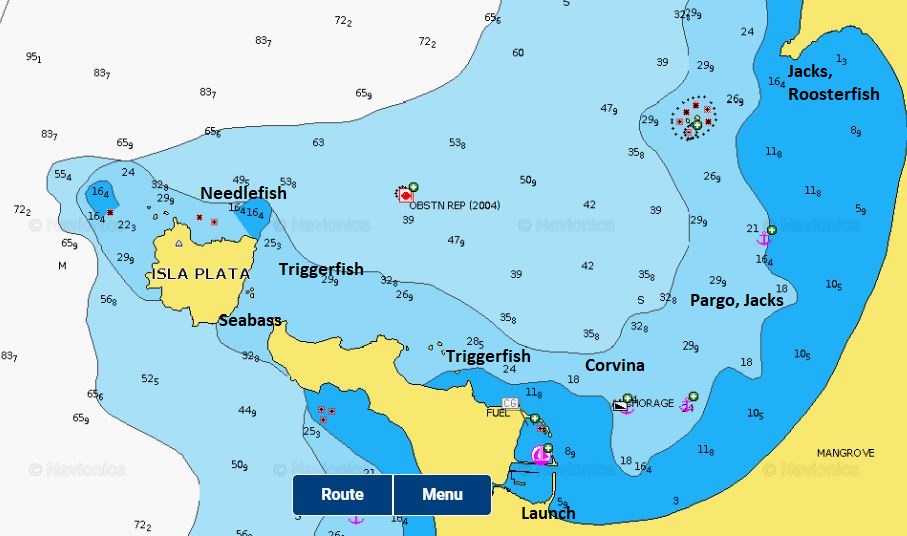 As you can see, the depths are relatively shallow.   Most areas that I fish are in 20-40 feet of water.  The deepest area is off of Isla Plata.
Equipment
I brought several freshwater and saltwater rods and reels with me from San Diego as follows:
G-Loomis MBR 843C 7 foot medium-heavy, fast action baitcaster rated at 10-17lb  line and 1/4 to 3/4 ounce lures with a Lew's Speed Spool reel.  I use spoons and suspending jerk baits on this rig and have caught fish up to 10 pounds on it in Costa Rica.
Shimano Terez TZS-78H-BLK 7 foot 8 inch power heavy, medium fast spinning rod rated at 50-100 braid with  Shimano Saragosa SW8000 spinning reel.  I use this for throwing large live bait and have caught several large Jacks and a few 4 foot long sharks on it.  I have 65 pound Power-Pro braid and a 60 pound fluorocarbon top shot.  This rod is perfect for throwing 12 inch live mackerels.
Graphite USA 711H 7 foot 11 inch heavy baitcaster rod, rated at 20-40 lb line and 1-5 oz lures.  I use a Shimano Curado 301E with Power-Pro braid backing and 40 lb top shot.  I use this rig to fish cut up bait and also some larger lures and spoons.  It is also a good trolling rod.
Shimano Tallus TLC-70M 7 foot baitcasting rod, rated at 14-30 pound line that I have not paired up with a reel yet.
Two medium spinning rods and reels use primary for catching bait fish with sabiki rigs,
I have broken off several fish on the 60 pound fluorocarbon and have decided that I need to start using steel leaders.  More on this to follow.
Catches
Crevalle Jack
The point shown in the upper right corner of the map above holds an incredible number of large Jacks and Roosterfish, primarily because there are large concentrations of bait fish ranging from 6 to 12 inches.  I catch bait with small spoons or with a Sabiki rig using my lighter spinning rod and then fly line the live bait on my big Shimano spinning rod.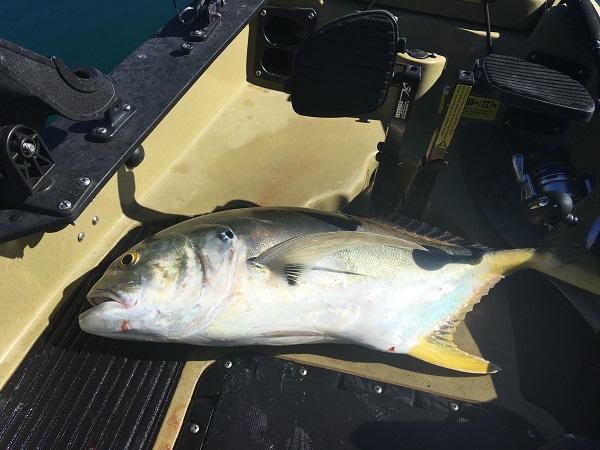 Here is my first Jack, shown above, about 10 lbs and caught on live bait.  The water was really clear and I could see dozens of Jacks darting in and out of the baitfish.  I threw just outside of the baitfish line so that my bait would stand out and was hit immediately with a big swirl.  Jacks are incredible fighters and have the nickname "El Toro", the Bull.  Another local Costa Rican, fishing next to me in a Kayak, hooked up on a nice Roosterfish at the same time.  We fought side by side and were doing loops around each other.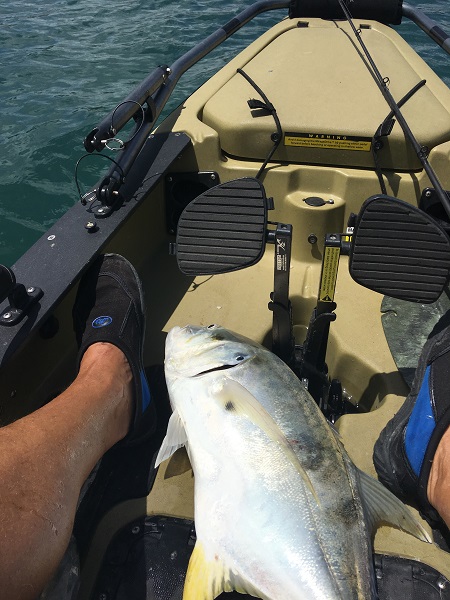 The second Jack that I caught was also about 10 pounds and was a big surprise.  I graphed a large group of bait fish in about 20 feet of water.  Mixed in was a few bigger fish but I wasn't sure what they were because I was fishing a new area that I didn't think Jacks would be hanging out at.  I was jigging a small spoon with my medium heavy G-Loomis rod, trying to catch bait fish to fish for larger fish.  This large Jack crushes the spoon and immediately starts peeling out line.  30-40 minutes later, he is in the kayak.  Great fun and fight.  Was not expecting this.
Trigger and Parrot Fish
I was fishing an area fairly close to the marina in about 30 feet of water where I graphed some large fish.  I dropped my spoon down, shown just above the fish, using my G-Loomis medium-heavy bass rod when this 6 pound Trigger struck.  Great fight that took about 15 minutes
The teeth on this fish were really weird looking.  During spawning season which occurs between May and August, Parrot fish become very aggressive in protecting their nest, often times charging and biting swimmers and divers.  I have caught many Trigger and Parrot fish since moving down here, but never this big.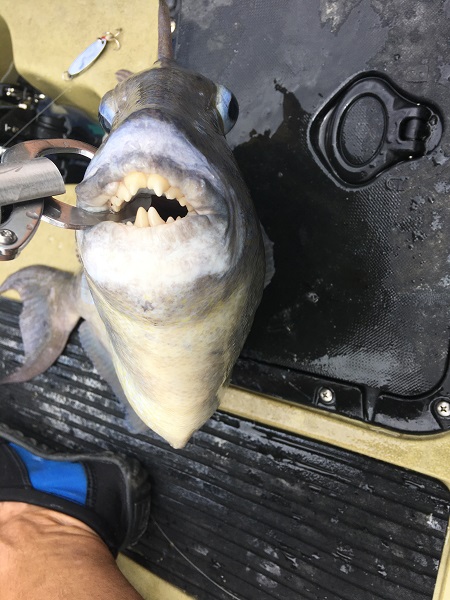 Below is a smaller, but still good sized, trigger fish, also caught on a spoon.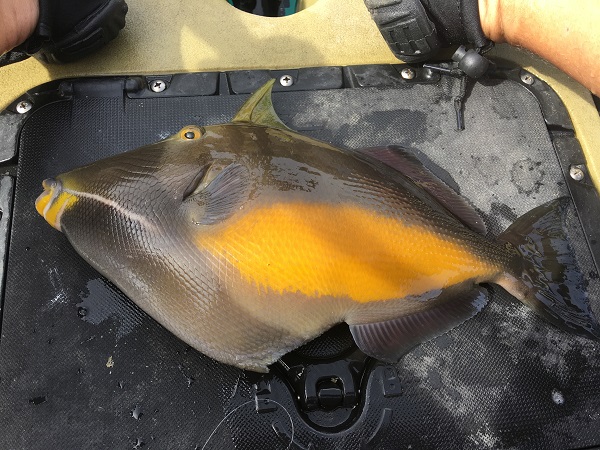 Needlefish
I have caught several Needlefish, all on suspending jerkbaits, worked close to the surface.  There are a large concentration of them in the northwest corner of Isla Plata around the reef that runs from west to east.  This is a pretty treacherous area for, not only boats, but kayakers.  Depending on the tides, the reef can be just inches or a several feet below the surface.  One minute the ocean is flat and then a few larger waves roll in, swell up and then break over the reef.  I have marked stay away zones as waypoints on my Garmin and am careful not to get too close.  One minute you are at a safe distance and then the tides grab you and can pull you close very quickly if you are not paying attention.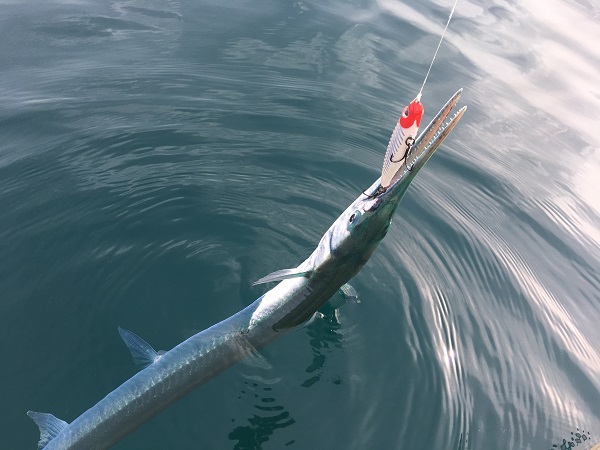 Needlefish are extremely fast.  They will hit your lure while streaking across the surface, often jumping 3-4 feet into the air after being hooked.  They have super sharp teeth, and a lot of them.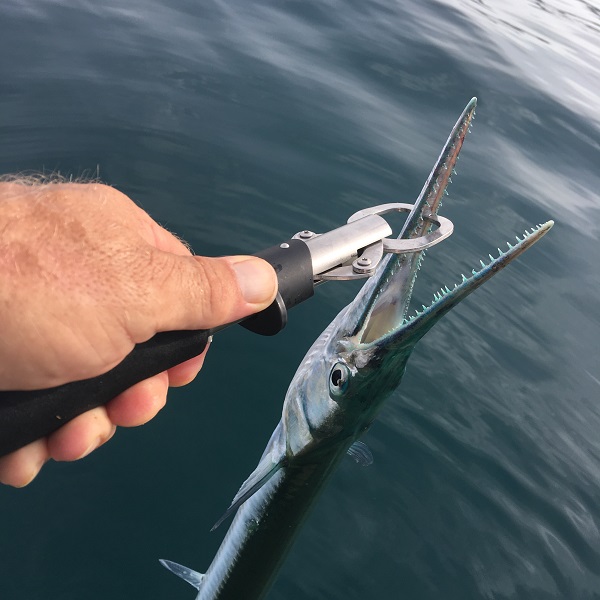 July  - Potrero/Flamingo Marina Area
Hit the water at 5:30 am at the end of July.  Hasn't rained significantly in about 3 weeks which is unusual, especially since we are in the middle of green season where, on average, June, July and August get about 30 inches of rain.  The rain, so nice to live somewhere that actually gets rain, mostly in late afternoon and night.  Being a San Diego native, we got more in one week in May than SD gets in wet year.  Loving this part.
Clear day with no clouds.  Felt like I was on San Diego's Lake Murray with no boats or people on a glass-out day.   It was that calm.  No wind until about 11am.  Then 15-20 mph and 2-3 foot wind waves made the 2 mile trip back somewhat treacherous, but the Hobie PA12 did great.  This was by far the roughest conditions that I have been in with the kayak.  For this time of the year, wind like this is unusual.  Just another reminder that this country can lull you into a false sense of security and then whack you......kind of like the 8 foot salt-water crocodile that I walked upon the other day in the marina.
Hooked a nice fish trolling that stripped out 50 feet of line on one run and then after a short fight, came unbuttoned.  In three months I haven't hooked a fish that fought like this one......there are so many different types of fish here, you start to recognize how they bite and fight :)  Usually, I can tell what it is.  Bummer this one came off before I could see it.
Caught another large trigger fish around 5 lbs and then a few smaller fish including several blow fish (shown).  I have learned how to recognize them on the graph now.  They are grouped together very tight because they appear as a large mass, and look like a school of bait fish.  The graph does not show individual fish.  There is no fight when they hit, just dead weight.  Even though I am trying to avoid them, I still run across them occasionally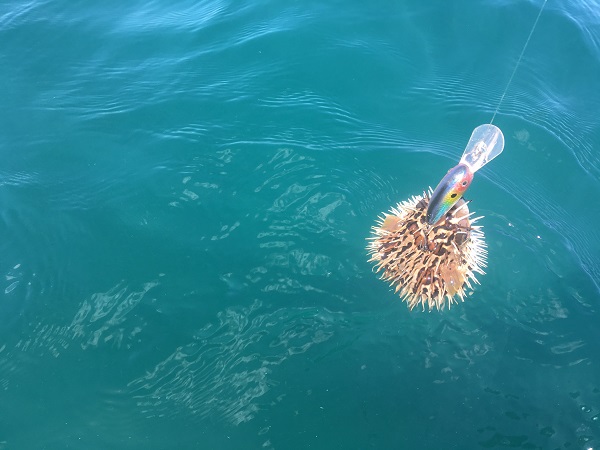 Found this small, protected cove.  Turquoise water with unlimited visibility.  Nobody around.  This is why I moved here.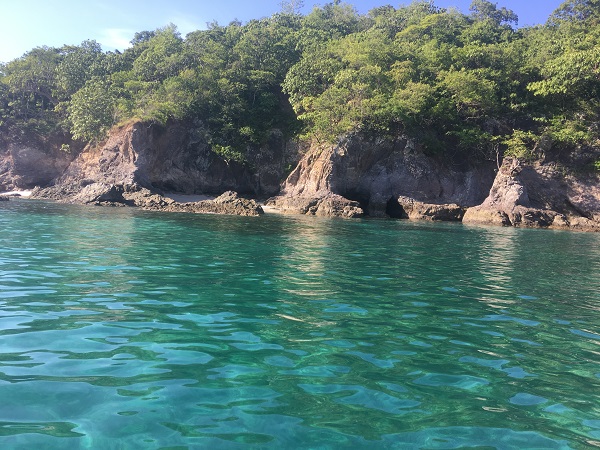 May - Las Catalinas Islands
Rainy or "green" season has started and we have received a quick 6-8 inches of rain in just a few days.  With the rivers and estuaries starting to flow, this is the time of the year that dorado (mahi-mahi), yellowfin and wahoo move very close to shore.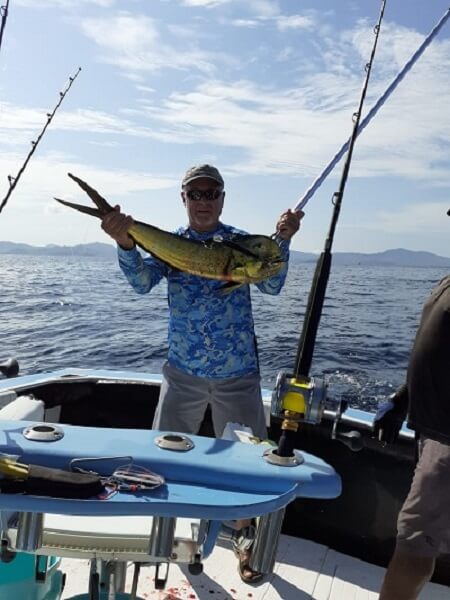 Dorado - Mahi Mahi
We hit the water at 6 am with calm seas, parts cloudy skies and the temperature only around 70.  Ocean water temperature was in the mid 80s.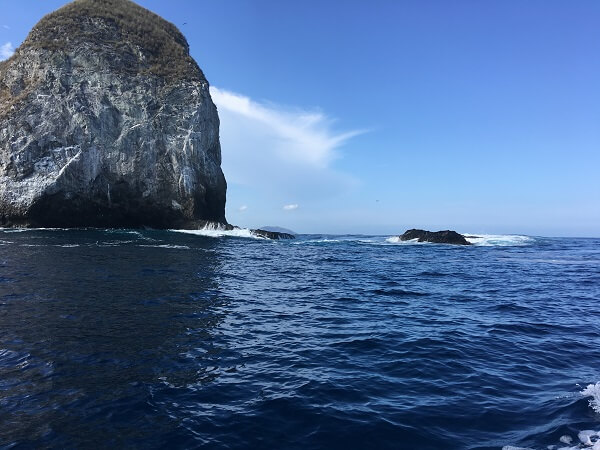 North Las Catalinas Island
This trip was to the Las Catalinas island, just a quick 10-15 minute boat ride from Flamingo harbor which is just a 5 minute drive from where I live.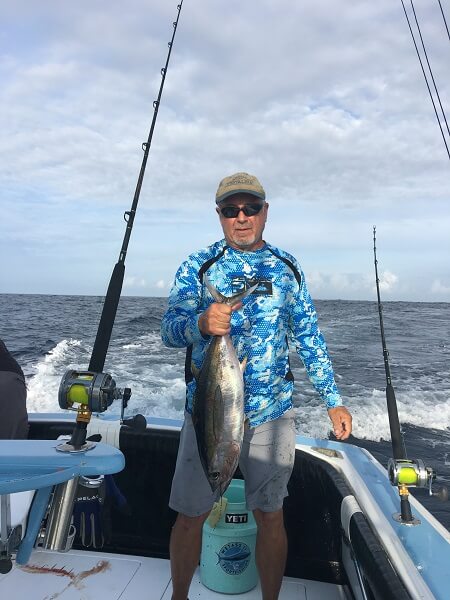 Yellowfin Tuna
Trolling with large rapalas, we boated two nice wahoo just off of the northern portion of Las Catalinas island within the first 30 minutes.  We added another 5 yellowfin tuna and 1 dorado over the next few hours.  We found large schools of dolphin back towards shore and only 2 miles offshore.  Dolphon are a tell tale sign that yellowfin are in the area. The dolphins will round up the smaller bait fish, push them to the surface, and then the yellowfin come up in large schools to feed.
We were off the water around 10 am before the usual afternoon storms starts to form.  Around noon the heavy rains started and we received about 4 inches of rain in just an hour or so.

August - First Roosterfish
Over the months, I have learned how to catch blue runners using the sabiki rig.  These fish hang out in the shade under the moored boats near the Flamingo marina and are usually pretty easy to catch.  Large Jacks and Roosterfish love the blue runners.
An average size bait is about 8 inches.  I fly line the bait out without any weight and just let them roam while keeping the kayak and rod pointed towards the bait.  Blue runners are strong baitfish and they will swim forever.
Late one morning in August, a school of Roosterfish moved through and were chasing bait on the surface.  My blue runner was in the right place at the right time and I nailed my first Roosterfish.  While at 5-6 pounds, it is not large by Costa Rica standards, it was a fun fight.  Roosterfish are protected in Costa Rica and must be released immediately.