Our Journey


The Allure of Costa Rica - How we got the Pura Vida bug



Our First Trip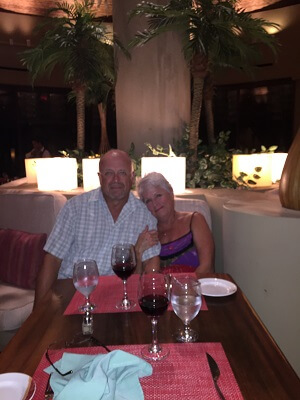 Our first visit to Central America and we were really excited.  This was a special trip to celebrate our 15th wedding anniversary and we wanted to go somewhere special that we had never been to before.
Since we are warm weather beach and sun lovers, we picked the Guanacaste province in Costa Rica's Pacific northwest.  This area is the sunniest and driest place in all of Costa Rica.  Our April anniversary lined up nicely with the end of the dry season so we booked 8 days in Playa Conchal at the Westin all-inclusive resort for the first week of April.  We planned on swimming in the ocean, lounging around the pool, fishing, going to Tamarindo and visiting the Arenal Volcano.  It didn't really work out this way.  More about this later.
The Westin Playa Conchal is a stunning, sprawling all-inclusive resort right on one of the most beautiful beaches in all of Costa Rica, Playa Conchal.  There is an adult only section and a family section.  We picked the adult side with its own pool.  At $700 per night we were very happy that we used our Starwood points so that our stay was going to be free.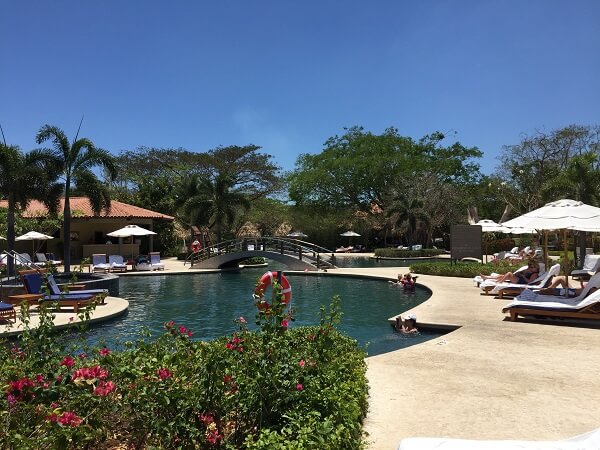 Westin Playa Conchal Adult Pool
We booked our tickets from San Diego to Liberia via Houston.  Liberia is only 45 minutes away from the Westin resort versus a four hour drive if you fly into the main airport in San Jose.
So off we went early one Sunday morning.  A three hour flight to Houston, a four hour layover and another three and a half hours to Liberia.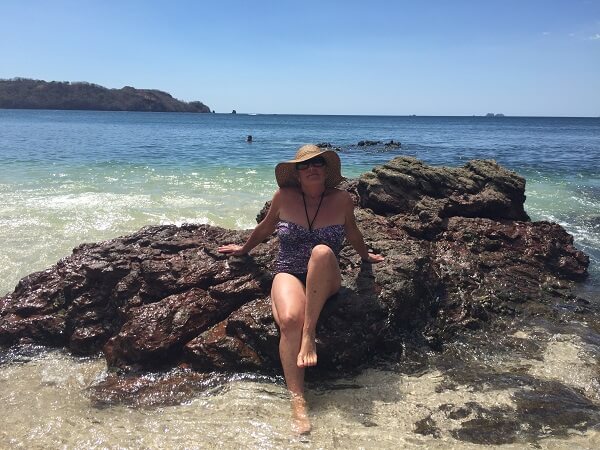 Playa Conchal North
The trip to Houston was unique.  As we started our descent, the pilot announced that there was going to be a lot of emergency vehicles on the runway once we landed.  After my heart skipped a beat, sadly, he said that this flight had a fallen soldier on board and that he was coming home for the final time.  Once we touched the ground, fire crews surrounded the plane and escorted us to the gate with a final solute of shooting water over the top from both the left and right sides of the aircraft.  The pilot asked everybody to remain seated and quiet until the casket was unloaded.  Very chilling and you could hear a pin drop.  People inside the terminal were crying.  A very somber start to our trip that reminded us of the important things and how fortunate we are.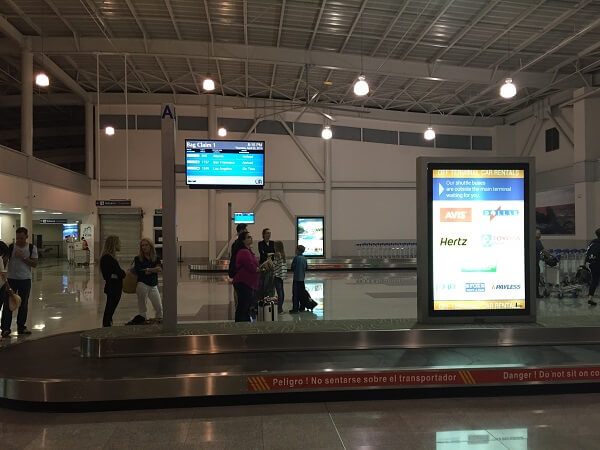 Liberia Airport Baggage Claim
We landed in Liberia at about 8pm.  Got the luggage and went through Immigration and Customs and we were out the door in about an hour.
We arranged for a resort shuttle to pick us up from the airport.  In planning for the trip we read about the dangers of driving in Costa Rica and that the potholes in the road would swallow your car up.  Driving at night was not recommended.  There were warnings that street signs are non-existent and that you wouldn't be able to find your way.  Supposedly if you ask a Costa Rican for directions, you will get a reply since they are trying to be polite, but there is a good chance the directions will be incorrect and your odds are even less if you don't speak Spanish.  In addition, we were scheduled to fly home on an early morning flight, meaning that we would have to head to the airport at 4am, so given this along with all the others factors, we went the safe route and took the shuttle.  
Mistake #1 - You will be limited greatly in exploring this beautiful country if you don't rent a car.  There were some things that were true, 1) there are indeed very few street signs and navigating with the traditional old school map is nearly impossible.  An example of a common address is "100m north of the second mango tree", 2) driving at night can be dangerous, especially in bad weather.  People on bicycles at night don't have lights and are hard to see, 3) There are indeed potholes but we found the roads from Liberia to Playa Conchal to be better than those in San Diego.  If we had to do it over, we would have stayed overnight in Liberia and rented a car the next morning.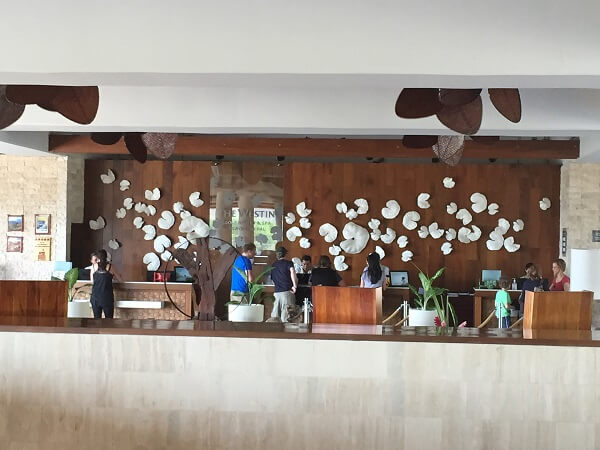 Westin Playa Conchal Lobby
We arrived at the resort at about 10pm.  We were not overly tired, so once we checked in and visited our room, we headed to an outdoor bar and patio area for a few drinks and a bite to eat before going to bed.
It was still warm and humid but very comfortable.....until the next morning when the mosquito bites showed up.  Turns out, after further investigation, the bar and patio area sits over a large pond and you can't see the water at night.  Mistake #2 - bug spray is mandatory at all times and lots of it on every part of your body.  We had it with us but didn't think we needed it so late in the evening.
As we roamed the grounds and ventured out to the beach, we immediately noticed the huge crowds, especially at the family pool and beach.  We quickly learned that it was Holy week, the week before Easter where Costa Ricas travel from the south to Guanacaste for the beach and sun.  Fortunately our 8 days straddled the holiday and the locals told us everybody would be gone by Monday.  Mistake #3 - Avoid travel during Holy week and Christmas week.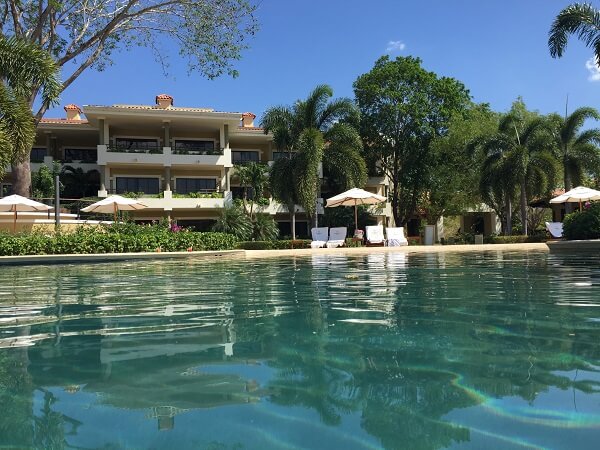 Westin Playa Conchal Adult Villas
For the next few days, we relaxed around the pool.  Days were in the low to mid 90s and nights in the 70s.  The mornings were extremely humid but as the day progressed, the sun baked out most of the humidity.
The Westin Playa Conchal is a gorgeous resort.  For those without children, the adult side is very peaceful and not crowded because you can only go to the adult pool if you are staying in the adult rooms and there are limited numbers of these types of rooms.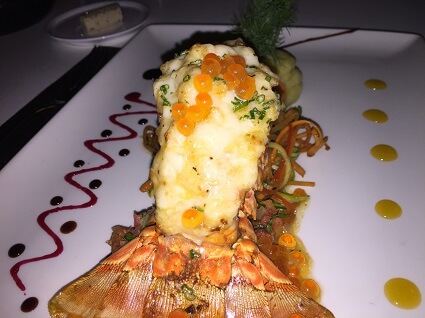 Local Lobster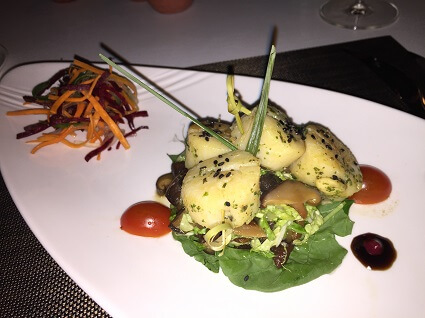 Scallops
There are seven restaurants with different themes such as Italian, Mediterranean, Pizza, Latin, Asian. Barbeque and several buffets, all at no additional cost.
Plus, there was one restaurant that you could upgrade for a cost.  We did this for our anniversary dinner.  Mistake #4 - Great food but not worth the extra charge, especially since the food was so good at the free restaurants.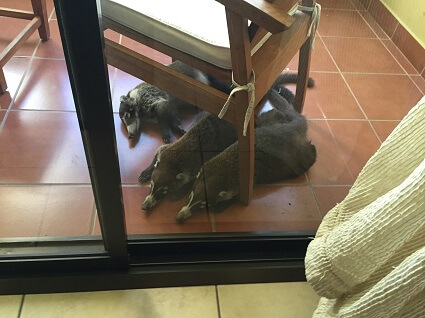 Coatis on the Back Porch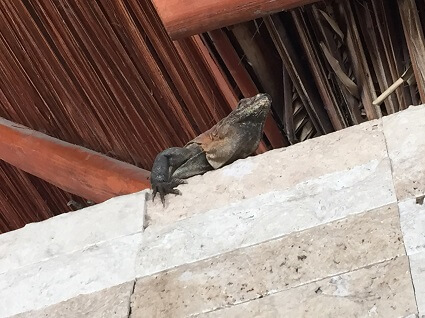 Big Iguana
One afternoon we had a few visitors, a group of Coatis (pronouned KO-WA-TEES) that decided to cool off on our balcony during the heat of the day and a large Iguana, reminding us that Costa Rica is alive with wildlife.  It was also common to see monkeys climbing through the trees within the resort.
Holy week was now over and the crowds have gone home.  It was time for a day trip to Tamarindo, a small beach community about 30 minutes south of Playa Conchal.  Famous worldwide as a surfing destination, Tamarindo is compact, somewhat crowded and very touristy.  If you are looking for deals, this is not the place.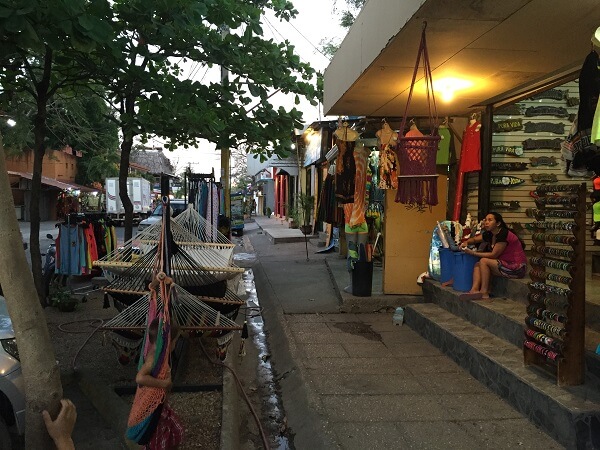 Downtown Tamarindo
We took a taxi and roamed the shops of the downtown area.  Had a few drinks and something to eat at the Pacifico bar located right on the beach.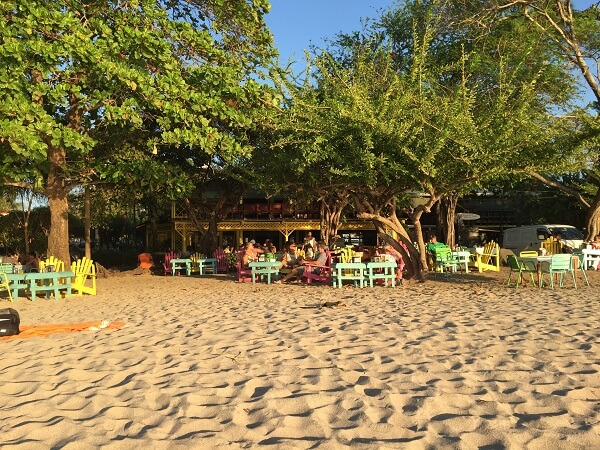 Pacifico Bar
We finished the day with a great sunset.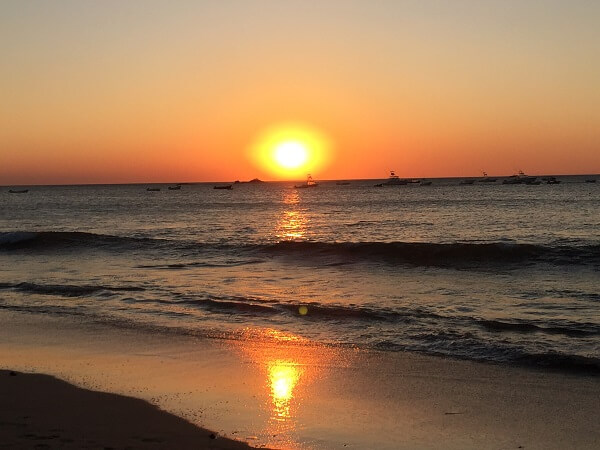 Tamarindo Sunset
We spent a few more days on the sand and in the water of Playa Conchal.  The sand is made up ground up conch shells, particularity on the north end of the beach near the point that separates Playa Conchal from Playa Brasilito.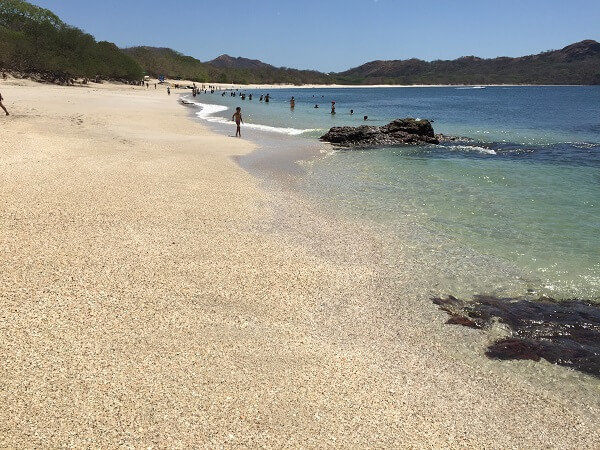 Playa Conchal
Our plans included a visit to the Arenal Volcano.  On a map it showed the distance as about 125 miles.  We figured slightly over two 1/2 hours, right ?  Wrong.  I doesn't matter where you travel in Costa Rica but the average speed will be about 30-35 miles per hour on average.  Small towns, slow moving trucks, vehicles on two lane windy roads and weather (rain and fog) are all a factor.
In contacting a tour company it was going to be 4 1/2 hours up, 4 1/2 hours back and probably not all that much time there.  Mistake #5 - This gets back to not having a rental car.  With a car, we could have left at first light (5:30am) and been back by dark.   But even with that, 9 hours in the car was going to be a really long day.  We put the trip on hold and promised that we would come back and figure out a better way to spend the day in Arenal on our next visit to Costa Rica.

The only other item on our must do list was deep sea fishing.  Costa Rica is known as the sailfish capital of the world.  I booked a half day with a local Costa Rican but ate something that didn't agree with me the night before and therefore had to cancel.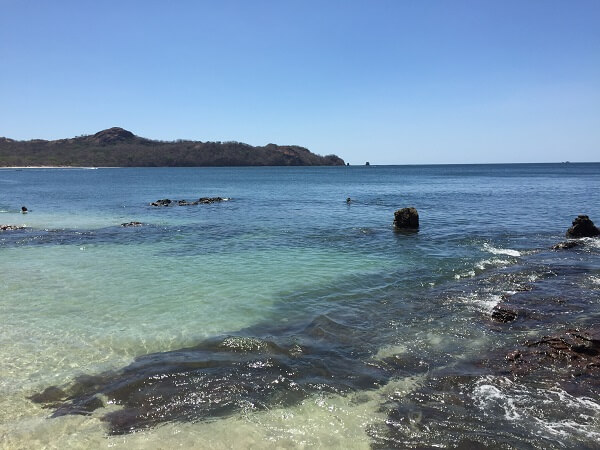 Playa Conchal
The week was over and we headed back to San Diego.  Our first impressions of this beautiful country were the wonderful people, laid back lifestyle and general happiness of everybody.  Learning from the mistakes summarized below, we promised to return soon but do things much differently.
Bring lots of bug spray.  Avon's skin-so-soft worked the best and does not contain harsh chemicals.  Put it on after you shower, everywhere, and then get dressed.
Return Trip

We are back but this time will be different
Learning from the mistakes of our first trip, we headed out on a 12 day adventure with plans to explore and see much more of Costa Rica by renting a car and controlling our own schedule.
Instead of flying into Liberia, we found much less expensive airfare by departing from Los Angeles and going into Costa Rica's capital city of San Jose.  The 3-4 drive to our first destination of La Fortuna was the same as if we had flown into Liberia.
Contrary to our first visit that was in April, we planned this trip in November to arrive at the very end of the green season as compared to arriving at the end of the dry season.
We landed at abut 6:30pm, just after sunset.  Took a shuttle over to the Avis rental car facility which was about a 20 minute drive in heavy traffic.  Hint - While (2) Avis provided great service, the (3) Budget office is really close to the (1) airport and only a five minute drive.  This makes it much easier when picking up and dropping off the car.
Many of Costa Rica's roads are not paved.  While our entire trip was planned on paved roads, we read that a four wheel drive in Costa Rica is a must because you never know what weather conditions will bring.  Therefore we picked up our 4WD SUV and headed out.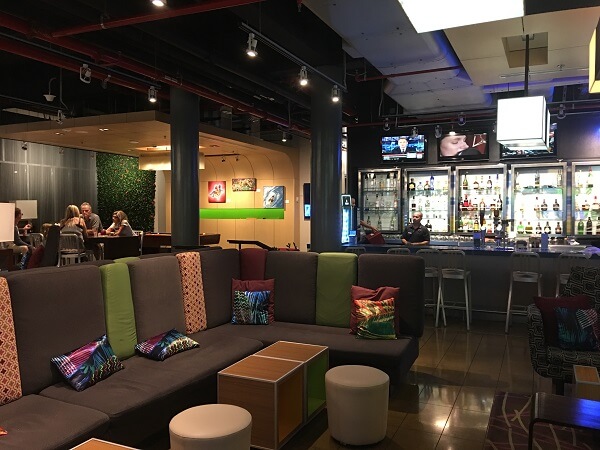 Aloft San Jose Bar Area
Since we arrived after dark and didn't want to do the 3-4 hour drive to La Fortuna at night, we stayed at the Westin Aloft located not too far from the rental car facility.  The Aloft is a brightly colored, trendy hotel.  The room was nice, although the mattress somewhat thin, I suppose more Tico style than those in the United States.  The room was quiet and the staff very friendly.  This is a highly recommended stop for those that need to spend the night close to the airport.

L a Fortuna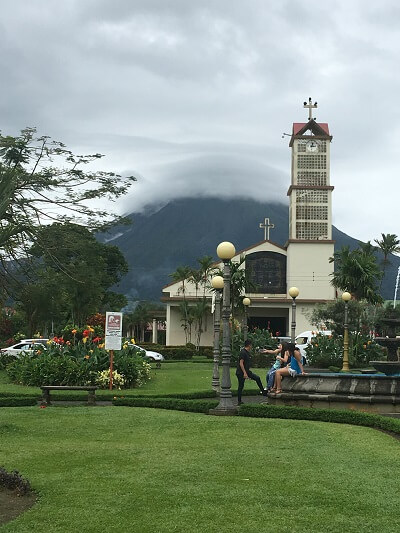 Downtown La Fortuna with the Arenal Volcano in the background
Our itinerary for this trip takes us to La Fortuna, located at the base of the Arenal Volcano, where we will stay for three nights.  We plan to visit the hot springs, visit the Arenal National Park, hike to La Fortuna waterfall and explore the town.  Then we drive around Lake Arenal, to Liberia and back down to Playa Conchal and with Westin resort where we stayed at during our first trip.  Then we plan on exploring up and down the Pacific coast.
The first leg is only 127km or roughly 80 miles.  There to four hours and an average speed of 20-30 miles per hour?  Yes, it was true.  A stunning drive where we found dense fog, slow moving trucks where you had to wait for just the right moment to pass, lots of single lane bridges and even a few large classic, as advertised, Costa Rican potholes.
After just under 4 hours of driving, we arrived in La Fortuna at the Los Lagos Hotel, Resort and Spa located about 4 miles (6 km) outside of downtown La Fortuna.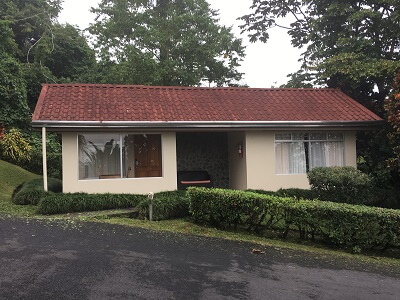 Our Casita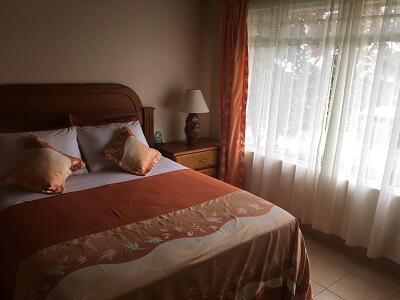 Comfortable Bedroom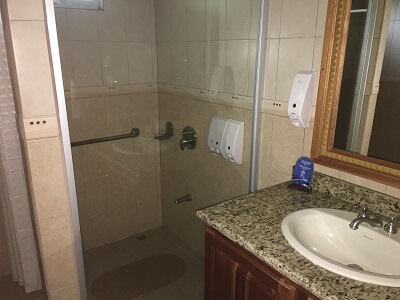 Small but Clean Bathroom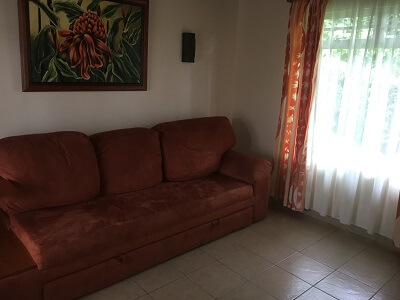 Sleeper Sofa in Living Room
Our first room was a tiny, but very clean, one bedroom with very little space.  For only about $40 more per night, we upgraded to a very nice stand alone casita with views of the Arenal Volcano.  Well, there would have been a view if not for the dense cloud cover.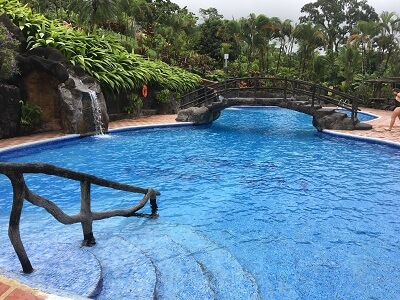 Main Pool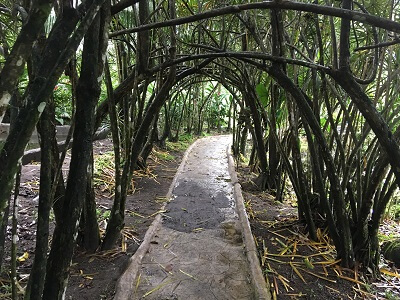 Start of Nature Trail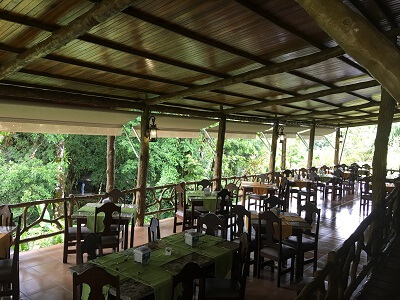 Open Air Dining Area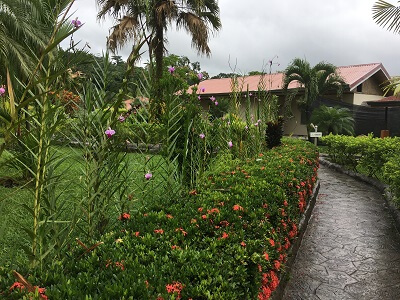 Lush Landscape
The resort was well maintained, lush and green.  We were now in the rain forest and it rained every day and night.  Sometimes just a drizzle and other times an all out downpour.  Either way it was neither cold or hot and very soothing.
There were several man made hot spring pools of all sizes, from one to two people to fifty.  Water from the volcano's hot springs are used to keep the temperature in the high 90s F to low 100s at all times.  Los Lagos had one pool that didn't use the water from the hot springs.
The nice open-air dining room and well manicured vegetation made this a great place to stay at a fraction of the cost of some higher end neighboring resorts.
Next was a hike to La Fortuna falls.  The rain subsided but there was still a thick cloud cover which kept the temperature down.

The La Fortuna waterfall is two hundred feet high falling from the Jungle to a river below.  There is an entrance fee of $15 USD that supports a non-profit conservation group that manages the area.  Just before the 500 steps that take you down to the bottom are a butterfly garden, an orchid trail, a great restaurant and nice public restrooms, changing area and storage lockers.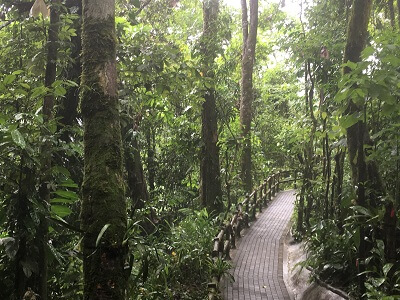 La Fortuna Falls Orchid Trail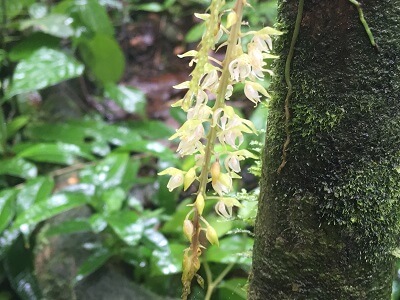 Orchids along the Trail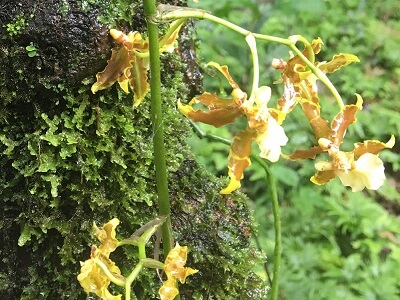 Wild Orchids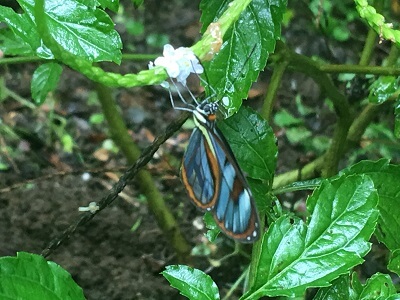 One Butterfly of Many
The trail to the bottom of La Fortuna falls is all cement and consist of mostly steps with some sidewalk sections.  The canopy shelters you nicely from the sun.  Bring water, bug spray, tennis or hiking shoes and rain gear.  The trip down is pretty easy but the trip up is a different story.  The hike is not recommended for those not in moderate to good shape due to the number of stairs, warm temperatures and extremely high humidity.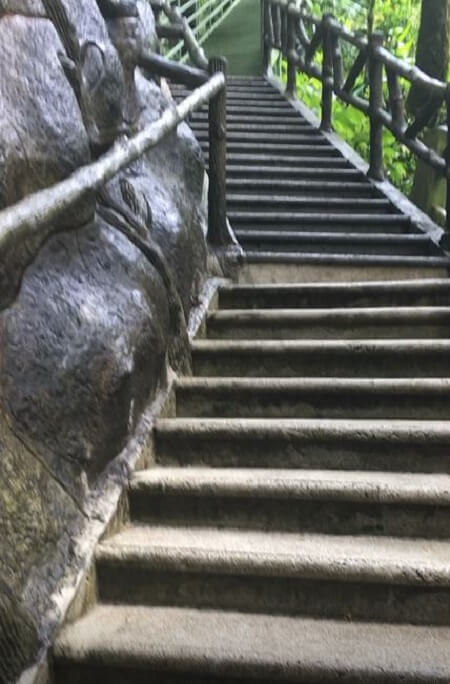 La Fortuna Falls Stairs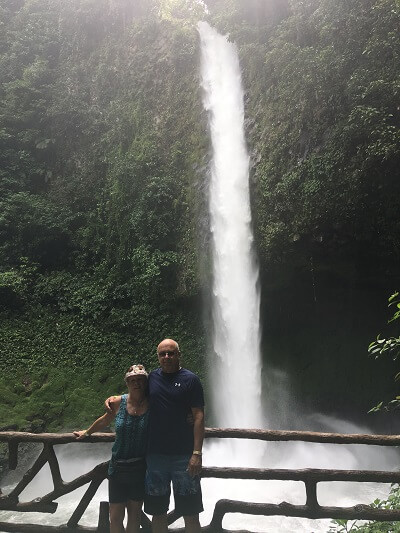 La Fortuna Falls Lookout
Once the hike is over and you are back at the top, there is the Rio Lounge, a covered dining area with great food and drinks.  We had 2 margaritas each, ceviche with plantains and a pork dish for two with salad.  Total for the meal was abut $46 USD before country tax and tip (propina in spanish).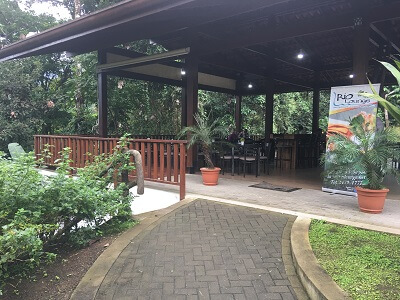 Rio Falls Lounge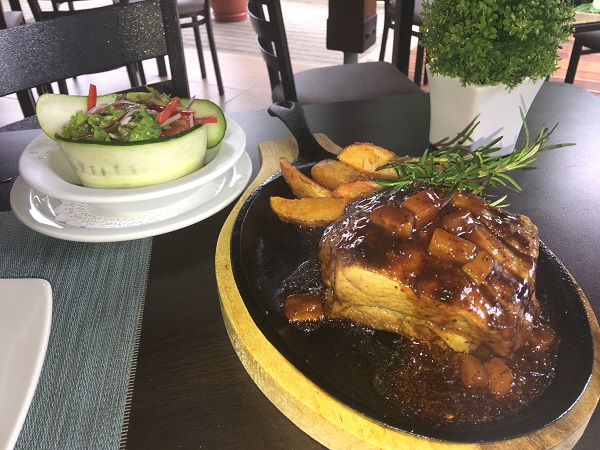 Delicious Pork and Greens
Ceviche and Plantains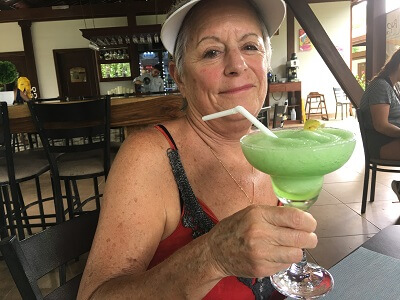 Refreshing Drink after the Hike
Arenal National Park
For our last full day in La Fortuna, we took the easy drive to the other side of the volcano to the Arenal National Park.  Once we paid the $15 USD entrance fee we parked the car and hiked both the upper and lower trails.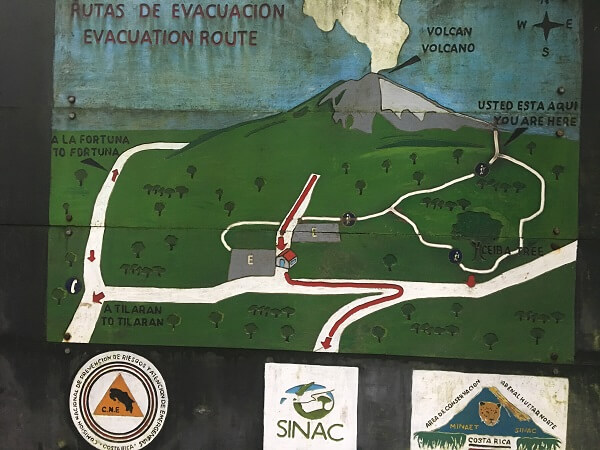 Arenal National Park
The trails are well marked and a fairly easy walk.  The toughest part was at the end of the upper trail and navigating over the lava rocks.  Unfortunately, the Arenal volcano was covered by clouds so we never got a good look at this active volcano.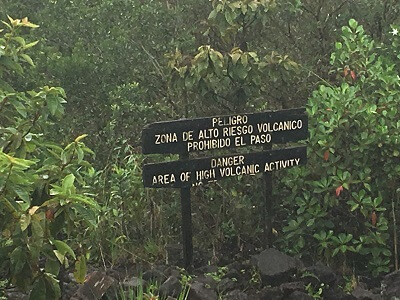 End of Arenal Upper Trail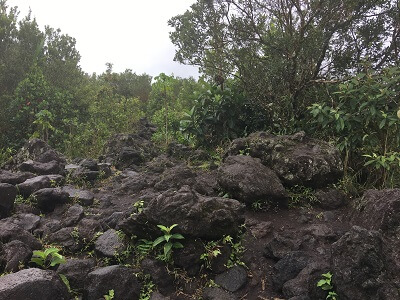 Lava Rocks at the end of the Trail
The lower trail was longer and more secluded.  The dense canopy kept us dry despite the continuous rain from above.  The highlight was the huge Ceiba tree about 2/3 of the way back.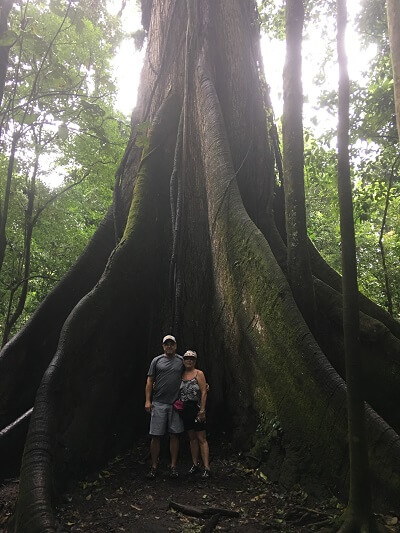 Arenal Trail Ceiba Tree
Guanacaste
Our four days in La Fortuna are over.  We got to see a side of Costa Rica that we missed during our first trip.
Next stop is the Westin in Playa Conchal, 121 miles (195 km), and as the trip from San Jose to La Fortuna was, a 4 hour drive.  We exited Los Lagos to the north and drove around the eastern side of lake Arenal, easily the largest freshwater lake in Costa Rica.  Eventually we met up with the inter-continental highway one, a nice divided, two lane each way road where speeds were higher.  We passed the nation's second largest airport in Liberia and wound our way back down to Playa Conchal.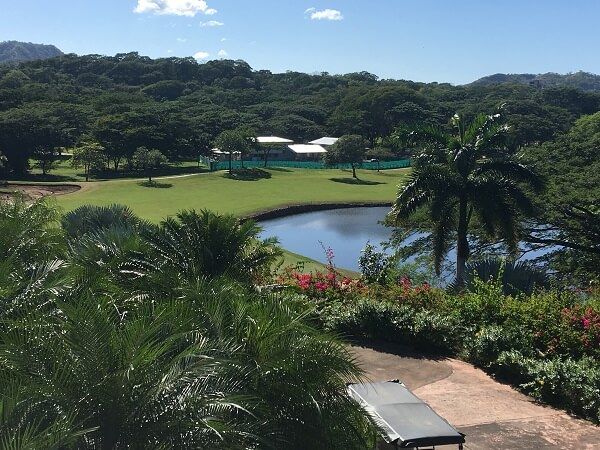 Westin Playa Conchal Golf Course
Immediately upon arriving, we noticed the huge contrast in the foliage.  Our first trip was at the end of dry season and on the Pacific coast, lots of plants and bushes were brown.  This trip was at the end of the green season and everything was lush and green.  We were told that by January, everything would be back to brown.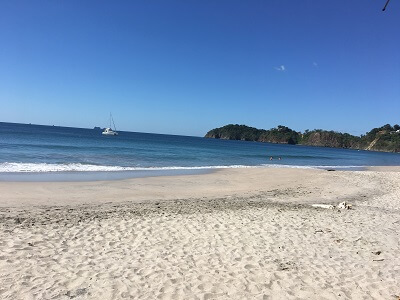 Playa Flamingo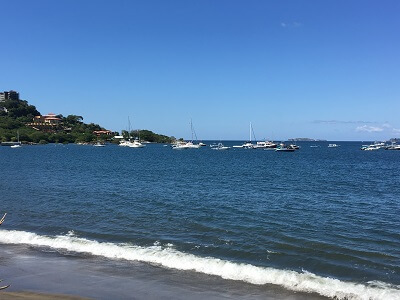 Playa Potrero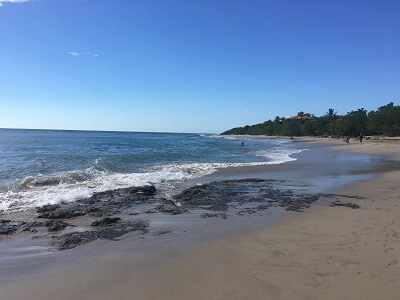 Playa Negra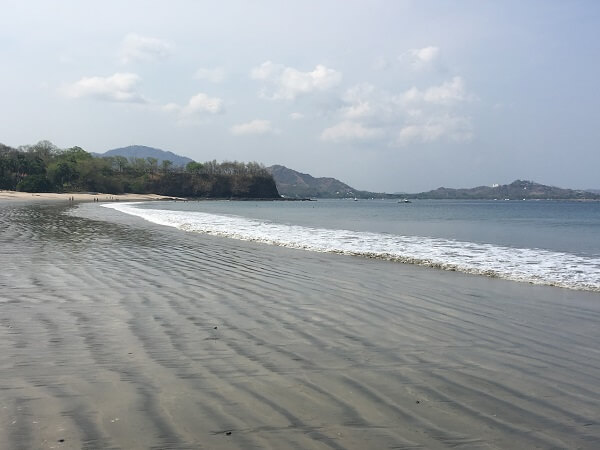 Playa Penca
We spent one full day checking out some of the beautiful Pacific coast beaches.  All were easy to get to with the exception of Playa Negra which was at the end of a 20 miles dirt, rutted, bumpy road but well worth the drive.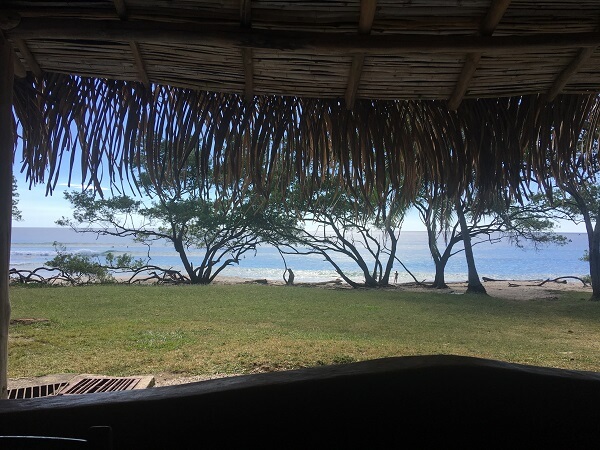 View from our Table at Hotel Playa Negra
At the end of the beach access road to Playa Negra, we found the Hotel Playa Negra and its open-air restaurant.  Beautiful and peaceful setting.  We enjoyed some very good, inexpensive, local food.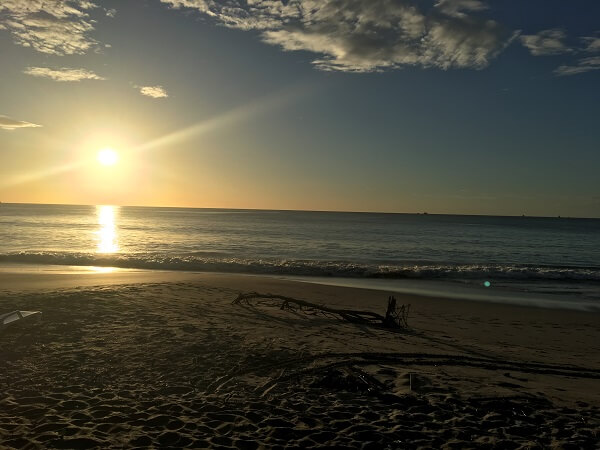 Playa Flamingo Sunset
Our final dinner at sunset at Coco Loco in Playa Flamingo.  This is the view from our table that did it.  After 12 days of exploring Costa Rica and just scratching the surface of things to explore, we fell in love with the people and the country.  This is when I said, I want to move here and retire.