Do Over - Costa Rica Itinerary of our Return Trip
Learning from the mistakes of our first trip, we headed out on a 12 day adventure with plans to explore and see much more of Costa Rica by renting a car and controlling our own schedule.
Instead of flying into Liberia, we found much less expensive airfare by departing from Los Angeles and going into Costa Rica's capital city of San Jose.  The 3-4 drive to our first destination of La Fortuna was the same as if we had flown into Liberia.
Contrary to our first visit that was in April, we planned this trip in November to arrive at the very end of the green season as compared to arriving at the end of the dry season.
We landed at abut 6:30pm, just after sunset.  Took a shuttle over to the Avis rental car facility which was about a 20 minute drive in heavy traffic.  Hint - While (2) Avis provided great service, the (3) Budget office is really close to the (1) airport and only a five minute drive.  This makes it much easier when picking up and dropping off the car.
Many of Costa Rica's roads are not paved.  While our entire trip was planned on paved roads, we read that a four wheel drive in Costa Rica is a must because you never know what weather conditions will bring.  Therefore we picked up our 4WD SUV and headed out.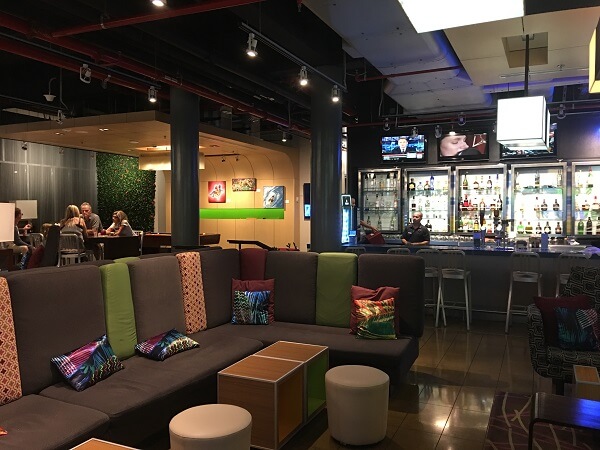 Aloft San Jose Bar Area
Since we arrived after dark and didn't want to do the 3-4 hour drive to La Fortuna at night, we stayed at the Westin Aloft located not too far from the rental car facility.  The Aloft is a brightly colored, trendy hotel.  The room was nice, although the mattress somewhat thin, I suppose more Tico style than those in the United States.  The room was quiet and the staff very friendly.  This is a highly recommended stop for those that need to spend the night close to the airport.
La Fortuna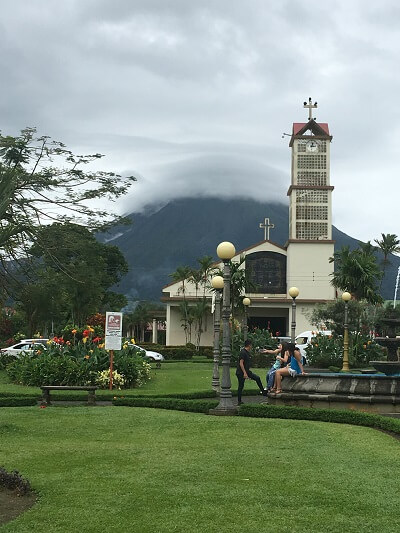 Downtown La Fortuna with the Arenal Volcano in the background
Our itinerary for this trip takes us to La Fortuna, located at the base of the Arenal Volcano, where we will stay for three nights.  We plan to visit the hot springs, visit the Arenal National Park, hike to La Fortuna waterfall and explore the town.  Then we drive around Lake Arenal, to Liberia and back down to Playa Conchal and with Westin resort where we stayed at during our first trip.  Then we plan on exploring up and down the Pacific coast.
The first leg is only 127km or roughly 80 miles.  There to four hours and an average speed of 20-30 miles per hour?  Yes, it was true.  A stunning drive where we found dense fog, slow moving trucks where you had to wait for just the right moment to pass, lots of single lane bridges and even a few large classic, as advertised, Costa Rican potholes.

After just under 4 hours of driving, we arrived in La Fortuna at the Los Lagos Hotel, Resort and Spa located about 4 miles (6 km) outside of downtown La Fortuna.
Our Casita

Small but Clean Bathroom

Comfortable Bedroom

Sleeper Sofa in Living Room
Our first room was a tiny, but very clean, one bedroom with very little space.  For only about $40 more per night, we upgraded to a very nice stand alone casita with views of the Arenal Volcano.  Well, there would have been a view if not for the dense cloud cover.
Los Lagos Pool

Open Air Dining Area

Los Lagos Trail

Lush Landscape
The resort was well maintained, lush and green.  We were now in the rain forest and it rained every day and night.  Sometimes just a drizzle and other times an all out downpour.  Either way it was neither cold or hot and very soothing.
There were several man made hot spring pools of all sizes, from one to two people to fifty.  Water from the volcano's hot springs are used to keep the temperature in the high 90s F to low 100s at all times.  Los Lagos had one pool that didn't use the water from the hot springs.
The nice open-air dining room and well manicured vegetation made this a great place to stay at a fraction of the cost of some higher end neighboring resorts.
Next was a hike to La Fortuna falls.  The rain subsided but there was still a thick cloud cover which kept the temperature down.
The La Fortuna waterfall is two hundred feet high falling from the Jungle to a river below.  There is an entrance fee of $15 USD that supports a non-profit conservation group that manages the area.  Just before the 500 steps that take you down to the bottom are a butterfly garden, an orchid trail, a great restaurant and nice public restrooms, changing area and storage lockers.
La Fortuna Falls Orchid Trail

Wild Orchid

Orchids along the trail

One Butterfly of Many
The trail to the bottom of La Fortuna falls is all cement and consist of mostly steps with some sidewalk sections.  The canopy shelters you nicely from the sun.  Bring water, bug spray, tennis or hiking shoes and rain gear.  The trip down is pretty easy but the trip up is a different story.  The hike is not recommended for those not in moderate to good shape due to the number of stairs, warm temperatures and extremely high humidity.
| | |
| --- | --- |
| La Fortuna Falls Stairs | La Fortuna Falls Lookout |
Once the hike is over and you are back at the top, there is the Rio Lounge, a covered dining area with great food and drinks.  We had 2 margaritas each, ceviche with plantains and a pork dish for two with salad.  Total for the meal was abut $46 USD before country tax and tip (propina in spanish).
Rio Falls Lounge

Delicious Pork and Greens

Ceviche and Plantains

Refreshing Drink after the Hike
Arenal National Park
For our last full day in La Fortuna, we took the easy drive to the other side of the volcano to the Arenal National Park.  Once we paid the $15 USD entrance fee we parked the car and hiked both the upper and lower trails.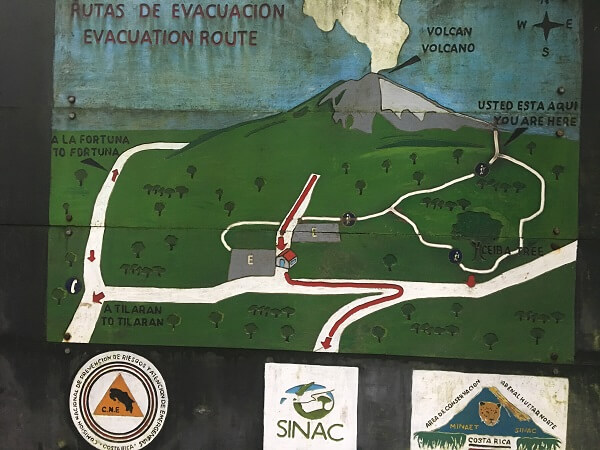 Arenal National Park
The trails are well marked and a fairly easy walk.  The toughest part was at the end of the upper trail and navigating over the lava rocks.  Unfortunately, the Arenal volcano was covered by clouds so we never got a good look at this active volcano.
| | |
| --- | --- |
| End of the Arenal Upper Trail | Lava Rocks at the end of the Trail |
The lower trail was longer and more secluded.  The dense canopy kept us dry despite the continuous rain from above.  The highlight was the huge Ceiba tree about 2/3 of the way back.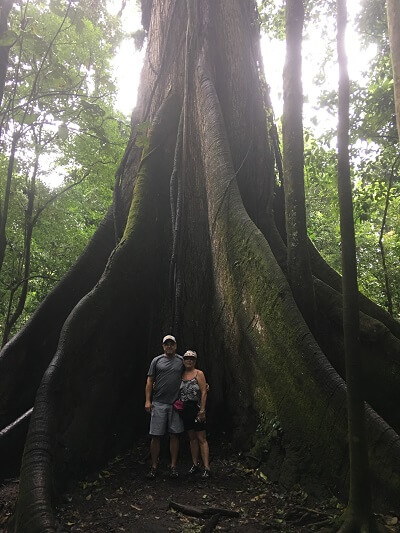 Arenal Trail Ceiba Tree
Guanacaste
Our four days in La Fortuna are over.  We got to see a side of Costa Rica that we missed during our first trip.
Next stop is the Westin in Playa Conchal, 121 miles (195 km), and as the trip from San Jose to La Fortuna was, a 4 hour drive.  We exited Los Lagos to the north and drove around the eastern side of lake Arenal, easily the largest freshwater lake in Costa Rica.  Eventually we met up with the inter-continental highway one, a nice divided, two lane each way road where speeds were higher.  We passed the nation's second largest airport in Liberia and wound our way back down to Playa Conchal.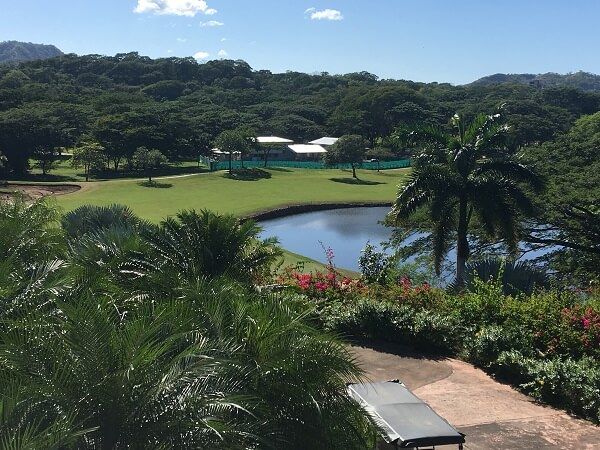 Westin Playa Conchal Golf Course
Immediately upon arriving, we noticed the huge contrast in the foilage.  Our first trip was at the end of dry season and on the Pacific coast, lots of plants and bushes were brown.  This trip was at the end of the green season and everything was lush and green.  We were told that by January, everything would be back to brown.
| | |
| --- | --- |
| Playa Flamingo | Playa Potrero |
| Playa Negra | Playa Penca |
We spent one full day checking out some of the beautiful Pacific coast beaches.  All were easy to get to with the exception of Playa Negra which was at the end of a 20 miles dirt, rutted, bumpy road but well worth the drive.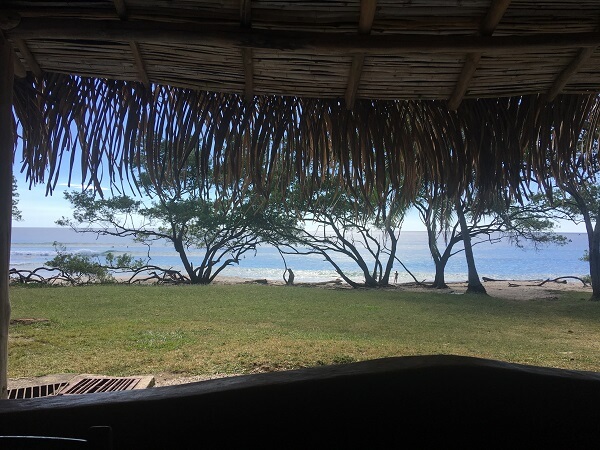 View from our Table at Hotel Playa Negra
At the end of the beach access road to Playa Negra, we found the Hotel Playa Negra and its open-air restaurant.  Beautiful and peaceful setting.  We enjoyed some very good, inexpensive, local food.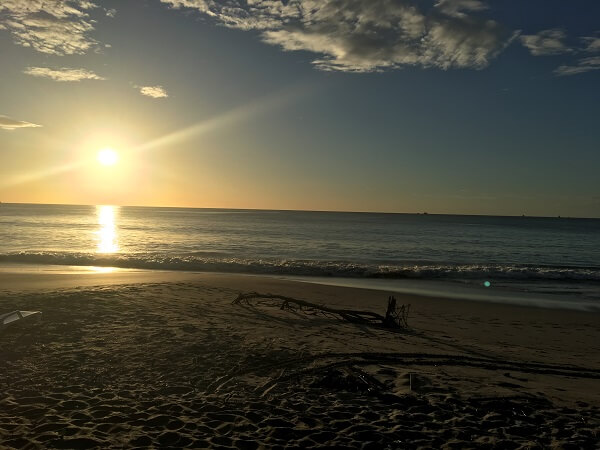 Playa Flamingo Sunset
Our final dinner at sunset at Coco Loco in Playa Flamingo.  This is the view from our table that did it.  After 12 days of exploring Costa Rica and just scratching the surface of things to explore, we fell in love with the people and the country.  This is when I said, I want to move here and retire.
Copyright 2018-2019